---
The Würth Group is the global market leader in the development, production, and sale of assembly and fastening materials. The family business, headquartered in Künzelsau, Germany, includes over 400 companies with more than 2,500 pick-up shops in 80 countries.
The Group is divided into two operational units: The Würth Line focuses on the production and sale of assembly and fastening materials for customers in the trades and industry. Other trading and production companies, known as the Allied Companies, operate in related business areas, ranging from electrical wholesale and electronics to financial services. The Würth Group generated sales of EUR 19.9 billion in the 2022 fiscal year.
The factors behind the success of the Würth Group include successful multi-channel sales, state-of the-art logistics, as well as product innovations and related services that make everyday life easier for more than four million customers across the globe. The Würth Group's range comprises more than one million products.
What is now a global Group evolved from the screw wholesaler Adolf Würth, which was established back in 1945. After the death of the company founder in 1954, his son, Prof. Dr. h. c. mult. Reinhold Würth, Chairman of the Supervisory Board of the Würth Group, took over what was then a two-man business. As Adolf Würth GmbH & Co. KG, this business remains the largest individual company in the Group to this day. The Würth Group currently employs more than 85,000 people, with more than 43,000 working in sales.
The corporate culture is characterized by values such as openness, gratitude, respect, curiosity, and responsibility, but also humility and modesty. The Würth Group's actions are geared toward sustainable corporate success. In order to live up to its responsibilities beyond the commercial realm, the family business has always been committed to social and cultural causes.
The Würth Group and the not-for-profit Würth Foundation contribute to a vibrant cultural landscape and social welfare for members of society. Five company-owned museums and ten associated galleries of the Würth Group in Europe present the works of the Würth Collection, which now comprises more than 18,500 exhibits. All of the company's museums are open to the public free of charge. The establishment of the Würth Philharmoniker as the musical ensemble of Reinhold Würth Musikstiftung gGmbH laid the foundation for Würth's commitment to classical music. In addition, the Würth Group and the Würth Foundation are committed to helping people with disabilities. Other focal points include education and training, as well as science and research. The company's sports sponsorship activities focus on soccer and winter sports.
The Würth Group believes that it is its obligation and responsibility to use resources consciously and to engage in sustainable business practices. The family business has already taken numerous measures to support this quest. Würth believes that the key lies in transitioning from a linear to a circular economy. The Würth Group has defined three areas of transformation to achieve this: climate, material cycles, and social standards.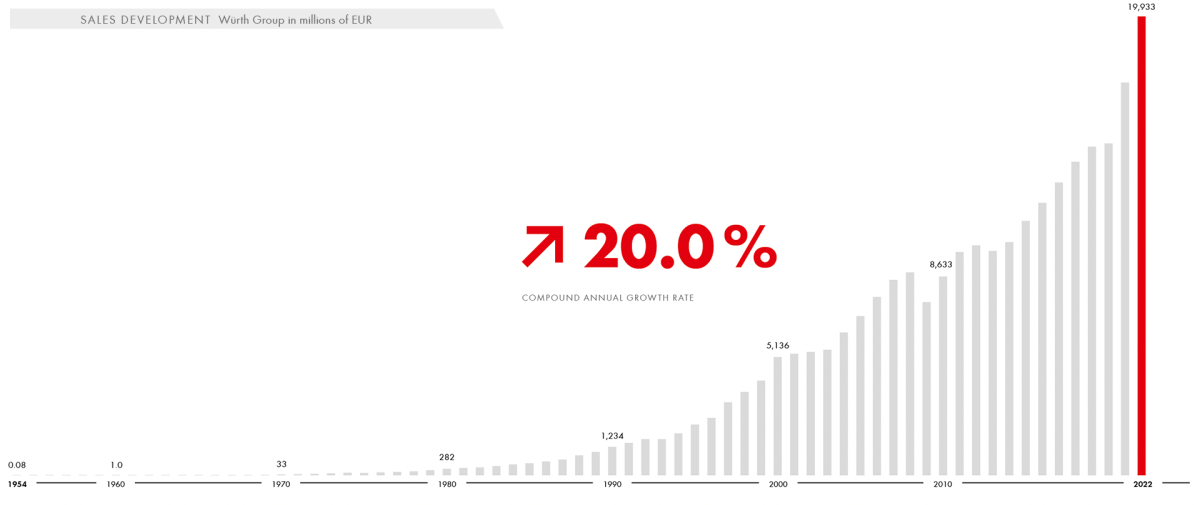 ---
After the COVID-19 pandemic was the main factor shaping global economic development in 2020 and 2021, the Russian military's attack on Ukraine on 24 February 2022 sparked fundamental changes in the global economic order. Material shortages and export problems intensified and continued to affect global supply chains. The war triggered a severe energy crisis that dealt a blow to the economic strength of European businesses and industries, led to an increase in the cost of living, and drove up inflation.
This development meant that individual economies were unable to meet their forecasts for 2022. In almost all regions of the world, economic growth was lower than in the previous year, meaning that the global economy as a whole grew by only 3.4 percent (2021: +6.1 percent). China reported growth of 3.0 percent, falling short of the targets it had set for itself (2021: +8.1 percent). After growing at a rate of 5.7 percent in 2021, the strongest increase seen since 1984, the US posted only a 2.1 percent gain in 2022.
Private consumption and relief packages managed to prevent a recession in Germany
The eurozone economy grew moderately despite the energy crisis
Shortages of materials and skilled labor, as well as price increases, presented challenges for the trades
In Germany, huge supply bottlenecks and an inflation rate of 6.9 percent (2021: 3.1 percent) created a difficult environment in which to start the year. In 2022, Germany, the Würth Group's largest individual market, lagged behind the success witnessed in the previous year with a price-adjusted increase in gross domestic product of 1.8 percent (2021: +2.7 percent). Overall, however, Germany was able to avert the feared recession, first of all because private consumption grew strongly at a rate of 4.6 percent year-on-year despite rising prices (2021: +3.1 percent). People were determined to catch up on a number of things that had not been possible during the pandemic: travel, cultural events, parties, dining out, and trade fairs. Second, the German government's relief measures and the robust labor market contributed to growth. In 2022, economic output was generated by an average of 45.6 million people in work (2021: 44.9 million).
The European economies were also affected by rising energy prices and achieved lower growth than in the previous year. The eurozone economy grew by 3.5 percent (2021: +5.2 percent).
Like so many industries, the trades faced major challenges in 2022. In the construction sector, shortages of materials and skilled labor met with high construction costs, not least due to significant price increases for energy-intensive building materials, resulting in hampered growth. This means that the industry was hit by a 2.3 percent decline in gross value added (2021: –1.4 percent). Construction investments also decreased by 1.6 percent in price-adjusted terms (2021: 0.0 percent).
The situation in the automotive sector also painted a mixed picture. Although the high energy and raw material prices and the shortage of products sent sales on a clear downward trend, at least until the middle of the year, 2.7 million more passenger cars were registered in 2022 as a whole than in the previous year (2021: 2.6 million). This corresponds to a year-on-year increase of 1.0 percent (2021: –10.0 percent).
All in all, 2022 once again served to demonstrate just how complex and interconnected all areas of the economy are worldwide. Germany fared comparatively well during the year given the geopolitical and economic circumstances and managed to stave off a severe economic crisis.
---
Sales growth of 16.8 percent to EUR 19.9 billion
Operating result increases to EUR 1,575 million
Investments up significantly year-on-year
The Würth Group once again demonstrated its competitive strength and stability in the 2022 fiscal year: The global Group achieved further record results.
At EUR 19.9 billion, sales were up considerably on the previous year (2021: EUR 17.1 billion). This corresponds to an increase of 16.8 percent, or 15.1 percent after adjustments to reflect currency effects. This means that, in the space of the last two years, the Würth Group's sales have increased by EUR 5.5 billion, which is more than noteworthy against the backdrop of the global economic developments. In Germany, sales were up by 13.1 percent to EUR 7.8 billion (2021: EUR 6.9 billion). The companies outside of Germany performed even better in the 2022 fiscal year, with sales up by 19.4 percent to EUR 12.1 billion (2021: EUR 10.1 billion).
The year 2022 was dominated by crises such as the war in Ukraine, the global COVID-19 pandemic, which is subsiding but has not yet been fully overcome, and material and supply bottlenecks. Nevertheless, the Group once again clearly demonstrated its ability to perform by spreading risk through its international positioning, diversification across various business areas, and its multi-channel strategy. The Electrical Wholesale business unit was particularly successful, posting growth of 24.8 percent. This very positive development can be traced back to service leadership and very high levels of product availability coupled with above-average logistics expertise. This sector also benefited from the boom in renewable energies. The Würth Elektronik Group, with its smart power and control systems, printed circuit boards, and electronic and electro-mechanical elements, also showed very robust business performance with sales growth of 22.0 percent. The Industry division of the Würth Line reported above-average performance as well, with sales growth of 20.9 percent.
Pick-up shops, where our customers can find products to meet their needs, represent one pillar of the multi-channel strategy. There are 2,594 pick-up shops worldwide, a figure that has more than doubled since 2011. In addition, the digital possibilities offered by online shops, e-procurement, and the Würth App offer the right solutions for contactless shopping. In the 2022 fiscal year, e-business generated sales of EUR 4.1 billion across the Group. The share of sales accounted for by this area rose to over 20 percent for the first time, reaching a new high of 20.7 percent.
The Group's own production plants in Germany and Europe ensure a certain degree of independence from global supply chains. Around 70 percent of the products sold originate in Europe. Production bottlenecks and congestion in container shipping left their mark on the global exchange of goods and also on individual areas of the Group in 2022, particularly with regard to fasteners and hand tools.
The Würth Group significantly increased its operating result for the second year in a row. At EUR 1,575 million, it was up by 24.0 percent on the prior year (2021: EUR 1,270 million), marking a new record in the history of the Group. This achievement can be attributed to strong sales growth, increased productivity, and the fact that sales growth outpaced the increase in costs. The year 2022 is the third year in a row in which costs for travel, trade fairs, and conferences were not incurred to the usual extent due to the pandemic. The return on sales increased year-on-year to 7.9 percent (2021: 7.4 percent). In the past fiscal year, the Würth Group once again made sustained investments in its various business units and markets in order to implement its planned strategies. Capital expenditure on intangible assets and property, plant and equipment, excluding acquisitions, came to EUR 821 million in 2022. One very significant individual investment was Reinhold Würth Innovation Center Curio. With an investment volume of EUR 75 million, state-of-the-art laboratories and workplaces have been created on premises spanning around 15,500 square meters at Würth's home in Künzelsau. The aim of the Würth Innovation Center is to create space for creative ideas, shorten innovation cycles, and bring new and further developments to market even faster and in a more customer-specific manner.
The Würth Group hired a total of 2,454 new employees in 2022. At the end of the year, the Group employed 85,637 people, with 43,297 working in sales. In Germany, the company employed 26,113 people.
---
Germany remains biggest individual market
The Americas report growth in excess of 30 percent
Nearly all regions show double-digit growth
Germany remains the most important individual market for the Würth Group, accounting for 39.4 percent of sales. The Würth Group achieved a clear double-digit increase of 13.1 percent in this market, a very positive result. At 19.4 percent, growth outside of Germany was even more dynamic. This meant that the share of sales outside of Germany exceeded the 60 percent mark for the first time, up by 1.3 percentage points. The main growth drivers here are the Group companies in the Americas, and in Southern and Eastern Europe. In regional terms, the Würth Group's growth is broad-based, with all regions—with the exception of Scandinavia—recording double-digit growth rates.
War in Europe, the COVID-19 pandemic, supply chain disruptions, and inflation were the main issues dominating the economic framework in 2022 and also posed major challenges for the Würth Group. Our multi-channel strategy and risk spreading based on the international and decentralized structure of the Würth Group with more than 400 companies in 80 countries, coupled with diversification through our large number of business areas once again paid off in 2022. The interplay between the various sales channels allowed the Group to maintain its proximity to customers. Ensuring material supplies and services was crucial. We supported this by increasing our inventories considerably. The Würth Group supplied more than four million customers across the globe last year, with over 50 million orders leaving our warehouses.
In the 2022 fiscal year, sales of EUR 7,849 million were generated in Germany, up by 13.1 percent (2021: EUR 6,939 million). The German companies continued to reap the benefits of their robust performance in 2020 and 2021, the two years dominated by the pandemic. The stability of the individual business models and very high levels of product availability explain the renewed double-digit growth and the excellent performance of the German companies. The Electrical Wholesale companies, the Würth Elektronik Group, WASI GmbH, a specialist in stainless steel fasteners and special materials, and Würth Industrie were particularly successful. The German companies that supply the automotive and mechanical engineering sectors directly, such as Arnold Umformtechnik or the tool distributor Hahn+Kolb, were yet again able to report double-digit growth in 2022 despite the countless uncertainties surrounding the transition to electromobility and the supply chain problems. Following the difficult pandemic years of 2020 and 2021, the Trade business unit also made a return to stable double-digit growth in the fiscal year under review. The companies in this unit also cover sales to DIY stores.

Adolf Würth GmbH & Co. KG, the parent company and at the same time largest individual company in the Group, generated sales of EUR 2,775 million including intra-Group sales (2021: EUR 2,511 million). Following an outstanding year in 2021, the company again achieved double-digit growth of 10.5 percent in 2022. On 16 July 1945, one of the success stories of post-war Germany began with the establishment of the company. It plays a pioneering role within the Group and successfully introduced the multi-channel strategy back in 2014. Alongside sales employees, the 585 pick-up shops (2021: 574) are key to the company's positive development. The further expansion of e-business, whose sales increased by one-fifth to account for a share of 20.6 percent in 2022, underpins the company's successful digitalization strategy.
Professionalism, in both internal and external interaction, coupled with dynamic sales growth explain the high level of profitability of Adolf Würth GmbH & Co. KG. It was able to follow in the footsteps of 2021 and again achieve a record operating result in excess of EUR 300 million in the 2022 fiscal year. This earnings power is also a prerequisite for investments in forward-looking sales, logistics, and product solutions: for instance, the construction of the new Reinhold Würth Innovation Center Curio that was opened at the company's headquarters in Künzelsau in September 2022. The expansion of Distribution Center West is planned for 2023. Würth is using artificial intelligence and robots to boost the level of automation and digitalization within logistics. The robots support incoming goods, picking, and palletizing for outgoing goods.
All in all, Germany accounts for an operating result totaling EUR 721 million (2021: EUR 639 million), making it the most profitable region.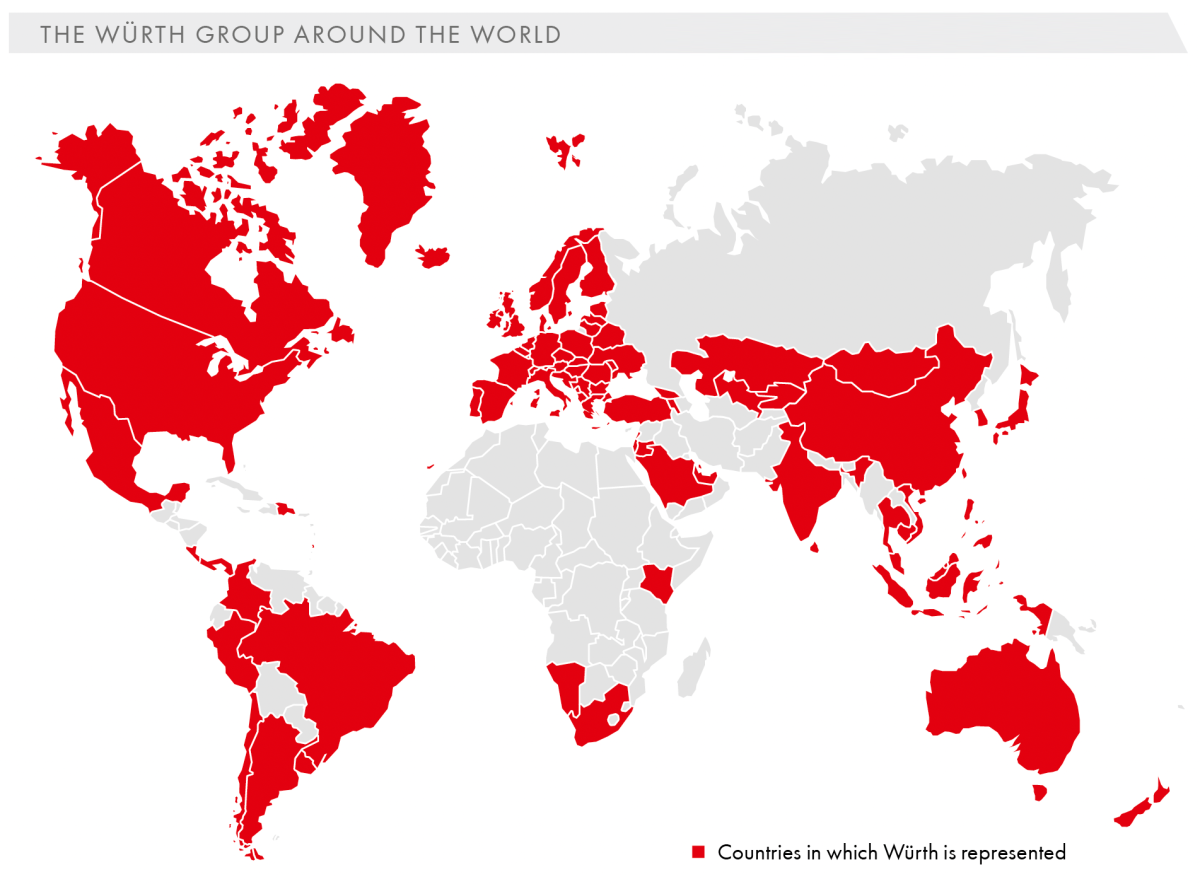 The Americas once again had to contend with natural disasters in 2022. Severe storms and extreme weather hit North America in particular very hard, and the extent of the damage has increased dramatically over the past five years. In addition, the strain on supply chains came to a head with the war in Europe and China's "zero-COVID strategy". This resulted in a historically sharp rise in inflation until mid-2022, particularly in the US, and prompted the Federal Reserve to raise the key interest rate several times to combat this development. At the same time, fears started to mount that economic growth could slow down. In addition, falling prices on the stock markets fueled fears of a recession in the US. The Würth Group was able to hold its own in this economic environment. Almost all of its companies in the US achieved double-digit growth. The companies in the Würth Line's Wood and Industry divisions were particularly impressive, reporting growth rates in excess of 30 percent in some cases. The Midcom Group was particularly successful in the US, with a year-on-year increase in sales of over 50 percent. Würth Electronics Midcom Inc. is a transformer manufacturer that was acquired by the Würth Group in 2008 and operates two production plants in China.
The companies in South America also performed very well in 2022. They account for 1.4 percent of Group sales, with Würth Brazil being the largest company in the region. Sales growth of 38.7 percent in euro and an increase of 27.5 percent in local currency in the region represent above-average growth rates within the Würth Group, partly due to the high inflation in the countries that make up this region.
Overall, the Würth Group generated sales of EUR 3,134 million in the Americas (+32.2 percent). In local currency, this translates to growth of 18.4 percent.
In 2022, the Würth Group companies in Southern Europe were able to carry over the post-COVID momentum from 2021 and achieve double-digit growth of 18.5 percent to EUR 2,888 million under their own steam. With a sales share of 14.5 percent, this puts Southern Europe in third place within the Würth Group, after Germany and the Americas. In terms of absolute sales, Italy is the dominant country in the Southern European region, followed by Spain and, with a wide margin, Portugal.
The companies in these regions have become more crisis-resistant over the past two years, which also had an impact on their figures in 2022. While COVID-19 became less of an issue, the supply chain issue remained. The war in Europe posed an additional challenge to the Southern European regions. The Würth companies nevertheless managed to achieve very good sales performance in this region by responding quickly and systematically to the ever-changing challenges. This was supported by many years of cooperation with customers and suppliers built on trust. Both the Italian and the Spanish companies in the Würth Group were able to increase their sales by just shy of 20 percent. Despite the volatile situation, the Würth Group has decided to continue investing in new employees in order to drive forward dynamic growth in the region in the future. As a result, 570 additional employees were hired in the Southern Europe region in the 2022 fiscal year, an increase of 4.4 percent compared with the previous year. Out of the 13,624 employees, more than 10,000 work in sales. No other region has such a substantial sales team.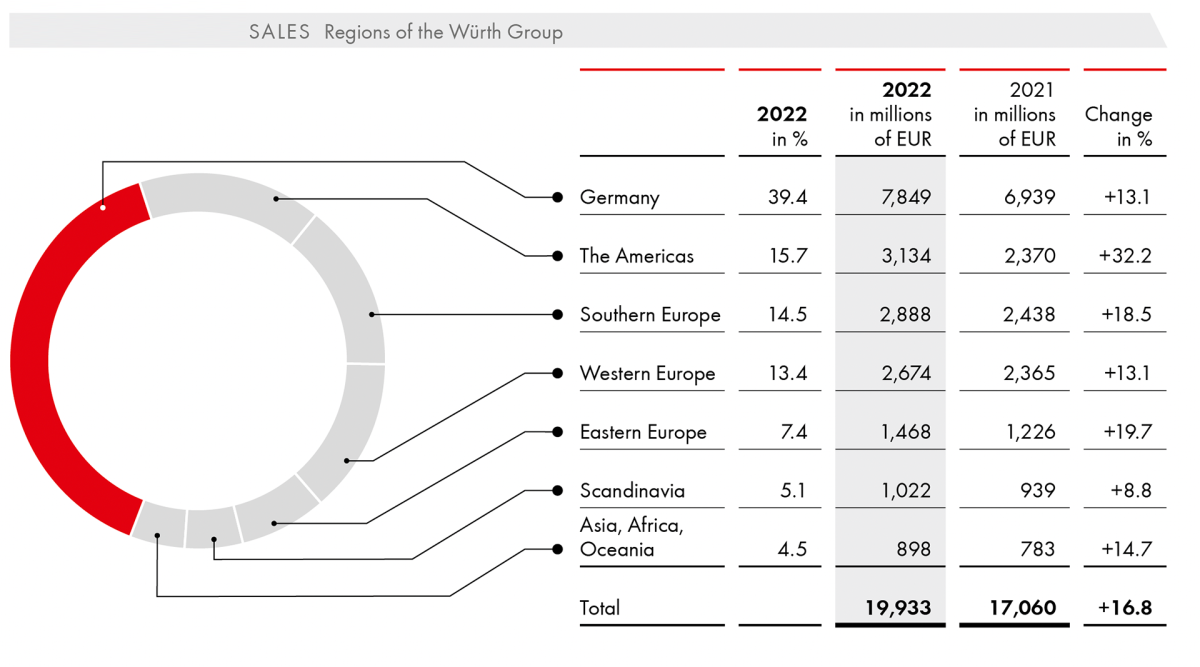 Western Europe is home to many of the Group's more established companies as it was there that the internationalization of the Würth Group began: one of the Group's major success factors. Sales showed double-digit growth of 13.1 percent to reach EUR 2,674 million. The majority of countries in this region recorded double-digit growth in 2022, with the exception of companies in the Netherlands (+9.3 percent) and Ireland (+8.6 percent).
The two countries with the highest sales, France and Austria, which reported growth of 10.4 and 15.9 percent respectively, were also able to contribute the biggest growth in sales in absolute terms. In Austria in particular, very good, sustained success was achieved in e-business, with growth of 31.5 percent to make up 29.9 percent of sales. France, Austria, and Switzerland account for just under 80 percent of the region's total sales.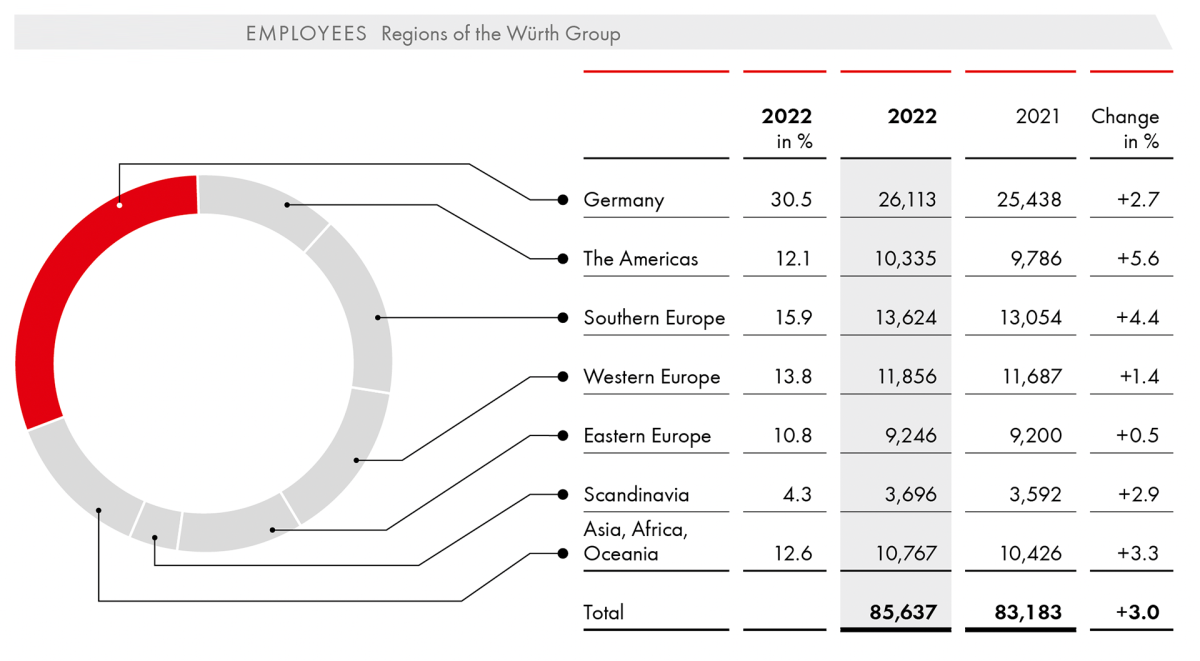 The Operational Units Of The Würth Group
---
The divisions of the Würth Line
The business activities of the Würth Line focus on the production and sale of assembly and fastening materials for customers in the trades and industry. Within the Würth Line, the operating business units are split into Metal, Industry, Auto, Wood, and Construction divisions.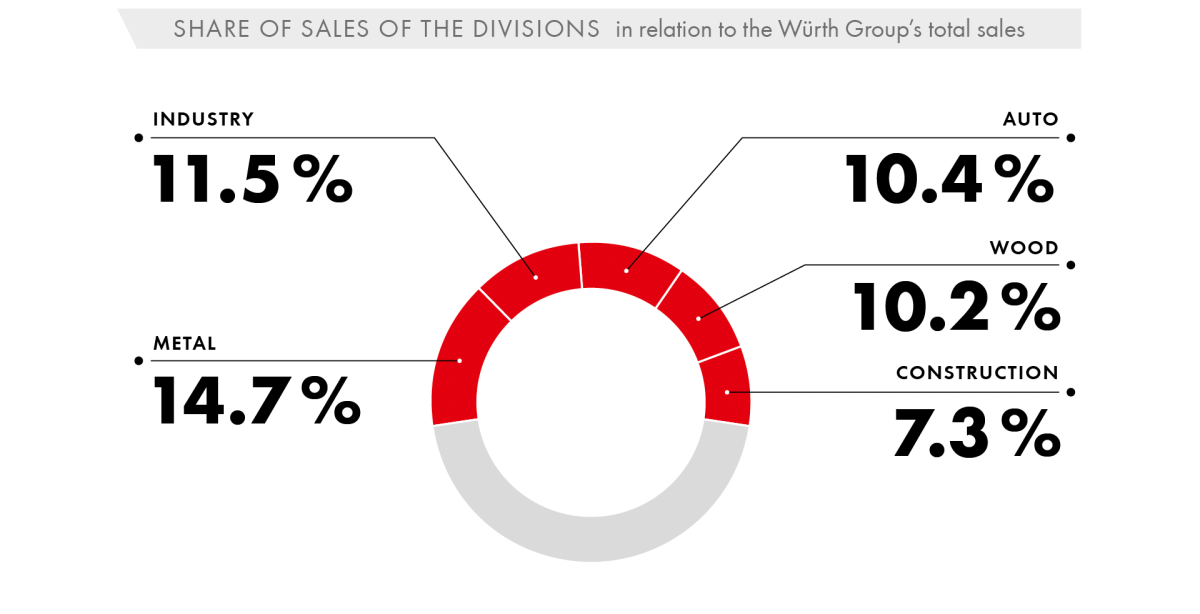 Metal division
The Metal division offers its customers innovative solutions to support them in their daily work today and in the future. Our core competency, direct selling, coupled with our pick-up shops and the various options for placing orders online, allows us to offer our customers top-quality advice and options for the procurement and provision of suitable products.
Metal subdivision
This subdivision directly serves customers in the metalworking and metal processing industries, and its main customers include metal and steel fabricators, fitters, and machine and vehicle manufacturers.
Installations subdivision
This subdivision concentrates on electricians, gas, heating and water installation firms, and air-conditioning and ventilation system engineers.
Maintenance subdivision
This subdivision addresses customers with in-house repair shops from a wide range of sectors, such as industrial enterprises, hotels, shopping centers, airports, and hospitals.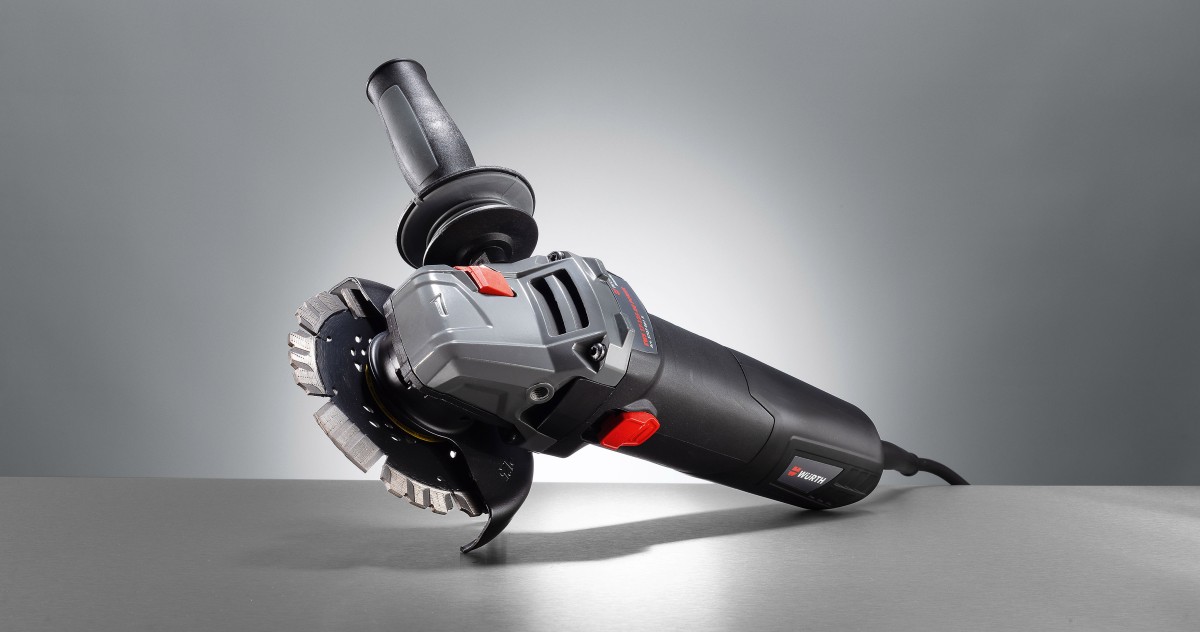 Industry division
The entities of the Industry division are specialized companies with a complete range of assembly and connecting materials for industrial production, maintenance, and repair. In addition to this comprehensive standard range, the division's strength lies in customized logistics concepts for supply and service, along with the provision of technical consulting.
The innovative further development of procurement and logistics systems within the Industry division emphasizes the role of full automation and systems in stocking and replenishing Würth products for manufacturing customers. One key focus remains the maximum availability of C-parts directly at the place of consumption, in the warehouse, and at the workstation. All solutions are made available as part of a holistic approach to the supply of production and operating resources. As in the past, the focus is on expanding digital processes and sales channels.
The strategic focus remains on personal on-site customer service thanks to a global network of companies and, as a result, the same high standards for quality, products, and processes across the globe.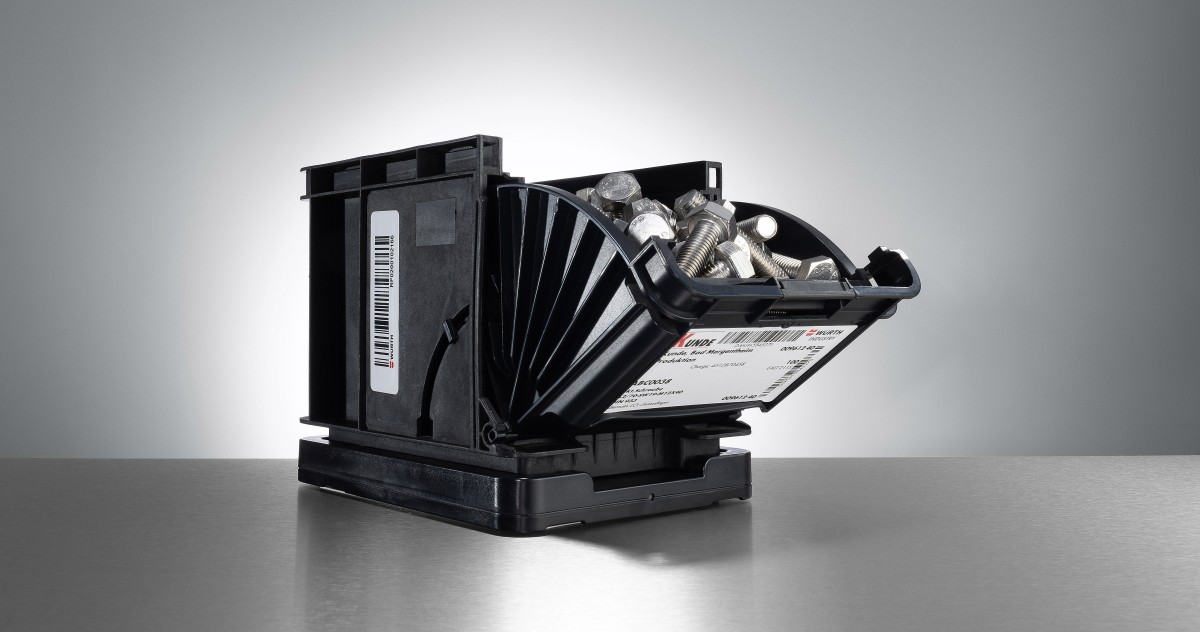 Auto division
The Auto division sees itself as a competent partner for car workshops—today and in the future. In addition to a comprehensive product range meeting the highest quality standards, we offer our customers innovative services and systems to optimize their internal processes. In complementary areas of expertise such as diagnostics, air-conditioning services, and special tools, we support workshops in the automotive and commercial vehicle markets. We also offer solutions for alternative drive systems and the increasing digitalization in the automotive aftersales segment.
Car subdivision
The customers in the car subdivision include vehicle manufacturers, brand-specific and independent car dealers, customers with large vehicle fleets, bodywork specialists, vehicle restorers, tire changing businesses, and businesses in the bike segment.
Cargo/Commercial Vehicles subdivision
The customers of this subdivision are authorized commercial vehicle repair shops, independent commercial vehicle repair shops, repair businesses focusing on construction and agricultural machinery, transportation and logistics companies, bus companies, businesses specializing in repairing and renting working platforms and forklifts, public-sector municipal utilities and waste disposal companies, as well as companies from the agricultural and forestry sector.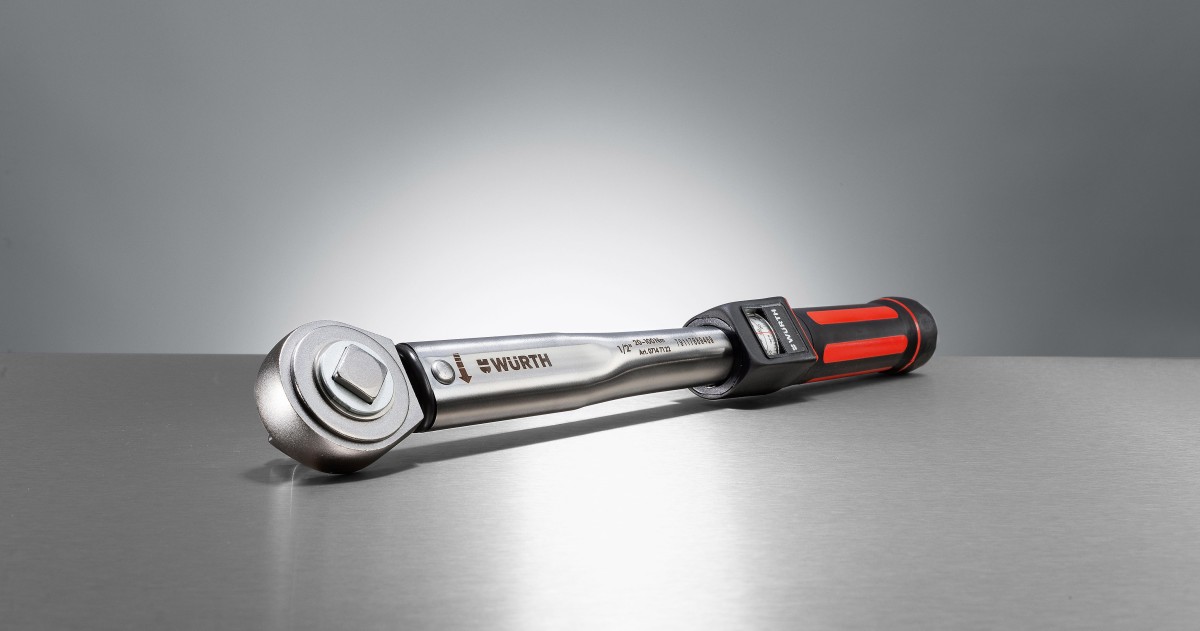 Wood division
The Wood division supports its customers in the entire woodworking and wood processing trade with a tailored product portfolio and specific application solutions. The product range includes wood screws, fittings, technical chemicals, as well as material treatment and structural connection products.
Thanks to a high level of expertise and holistic sales solutions, we not only offer our customers products that are perfectly tailored to suit their needs, we also see ourselves as a personal advisor, assisting our clients from the preparation of their initial plans to the completion stage.
In these endeavors, the Wood division is responding to the latest trends in the industry: The WÜDESTO online configurator already allows customers to create customized furniture elements and order semi-finished parts with exact dimensions in Germany, Austria, and Italy. In order to sustainably develop the e-business area internationally and to meet demands in the skilled trades, there are already plans to integrate further companies into WÜDESTO.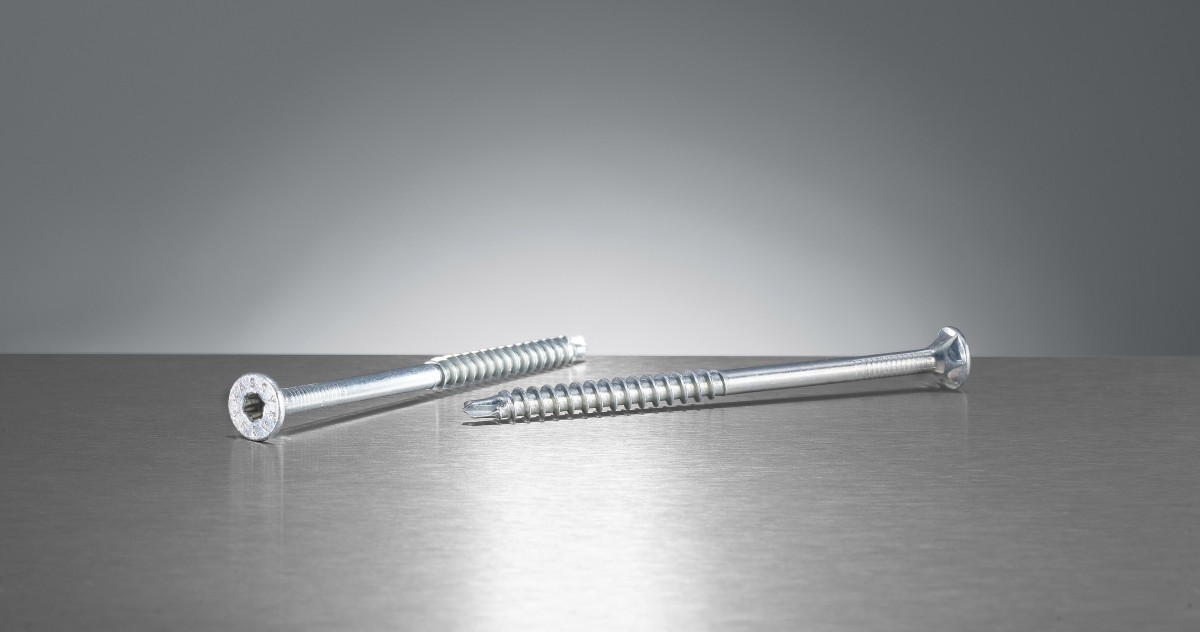 Construction division
The Construction division aims to supply construction companies across the globe at the regional, national, and international level with standardized high-end products and services. The pick-up shops are the ideal port of call for customers looking to cover their immediate needs. The sales force acts as a permanent point of contact at the construction site. They are responsible for optimizing the processes associated with the main trades involved in the shell construction phase and in the various technical building installations as part of the project business.
The Construction division encompasses all sales units responsible for serving customers in the building and civil engineering industry and the finishing trades. The focus is on construction companies, technical building equipment, roof and wood construction customers, finishing and facade specialists, and direct supplies to construction sites. Customized service and logistics solutions are also provided, such as equipped material stores directly at the construction site. There is an increasing focus on strategic target groups such as real estate developers, planners, architects, and project managers.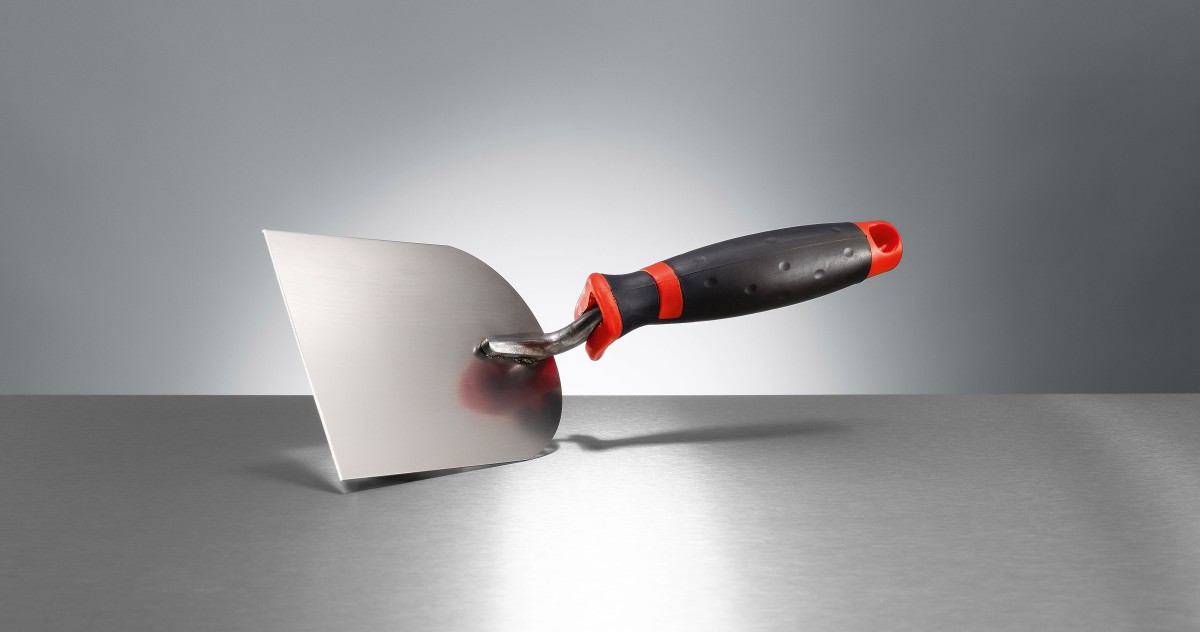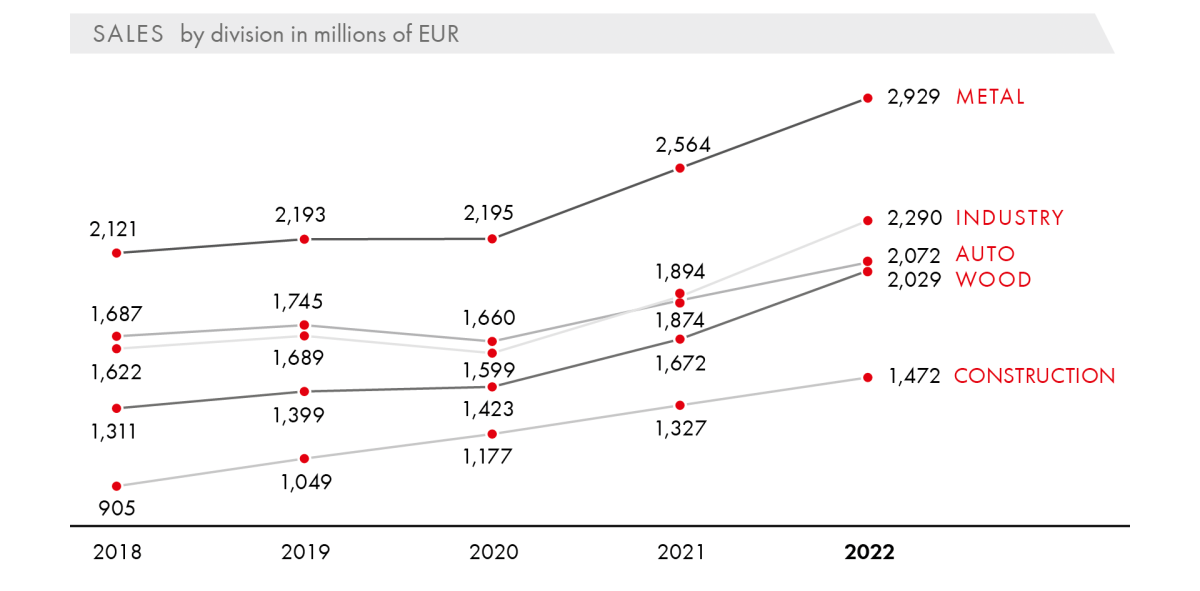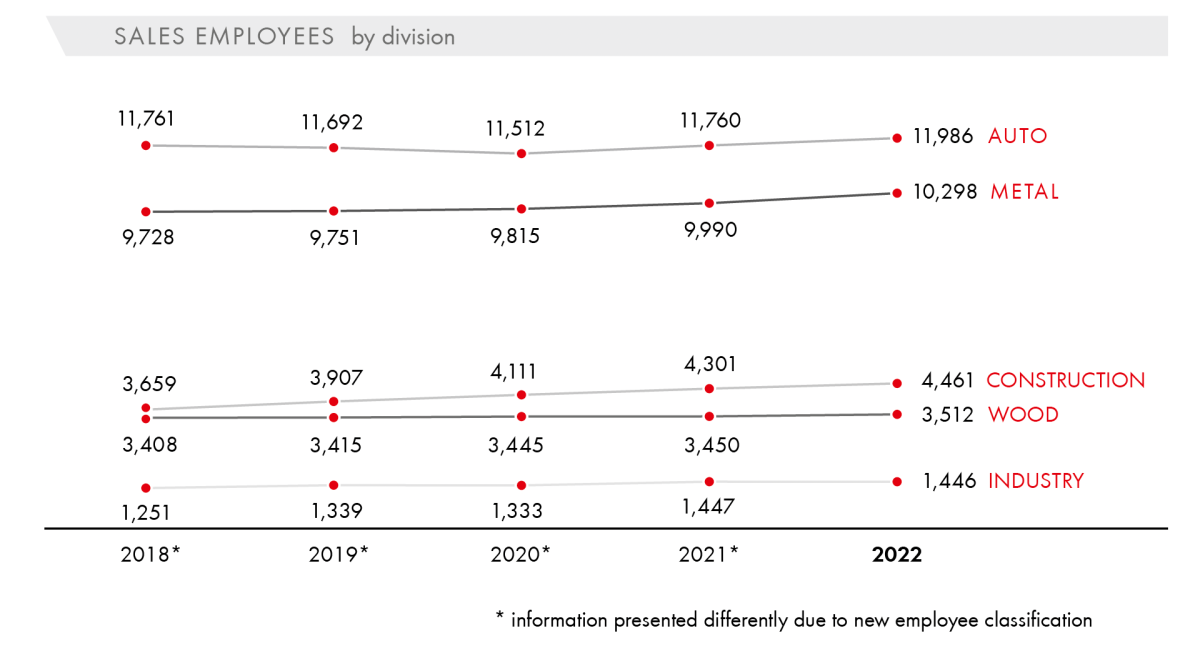 The business units of the Allied Companies
The Allied Companies operate either in business areas related to the Group's core business or in diversified business areas, rounding off the Würth Group's portfolio. They are divided into nine strategic business units. With the exception of a small number of manufacturing companies, the majority are sales companies operating in related areas.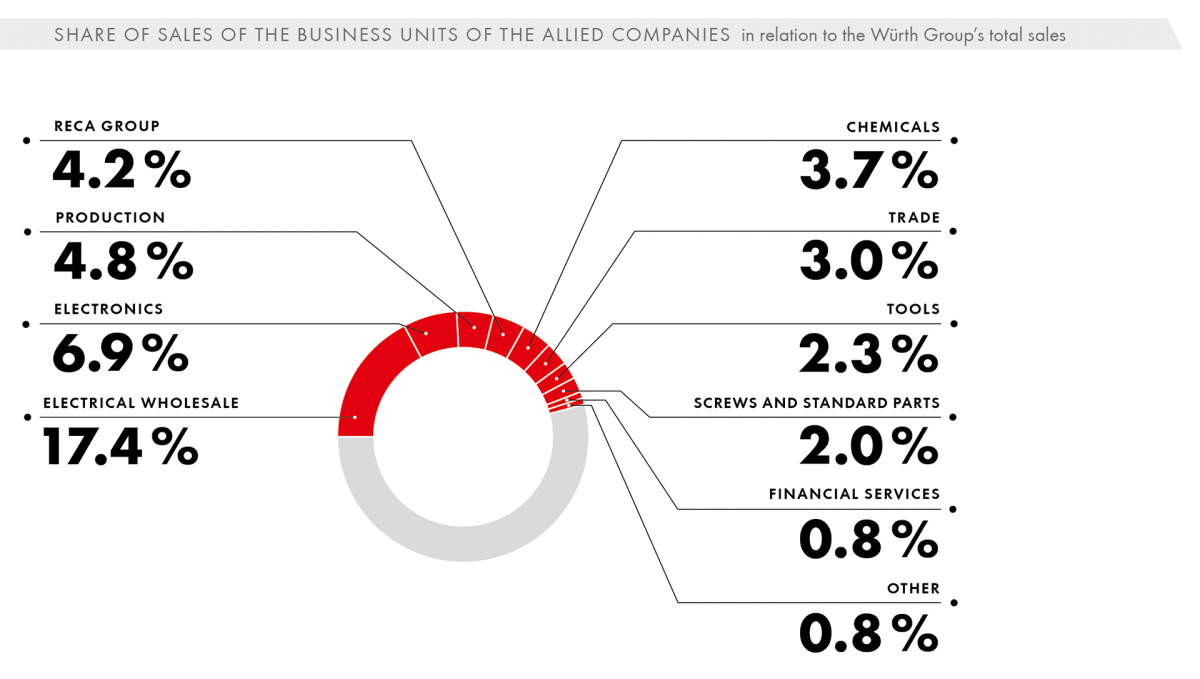 Electrical Wholesale
The business activities of these companies include products and systems covering the areas of electrical installation, industrial automation, cables and lines, tools, data and network technology, lighting and illumination, household appliances and multimedia, electrical domestic heating technology, and regenerative power generation. Trading activities are supplemented by extensive consultancy and service ranges and are aimed at professional customers from the trades, industry, and the retail/wholesale sector.
Growth outstrips market development yet again: new record sales in 2022
Investments running into the millions in warehouse and logistics structures
Expansion of sales focus to include renewable energies, electromobility, and heat pumps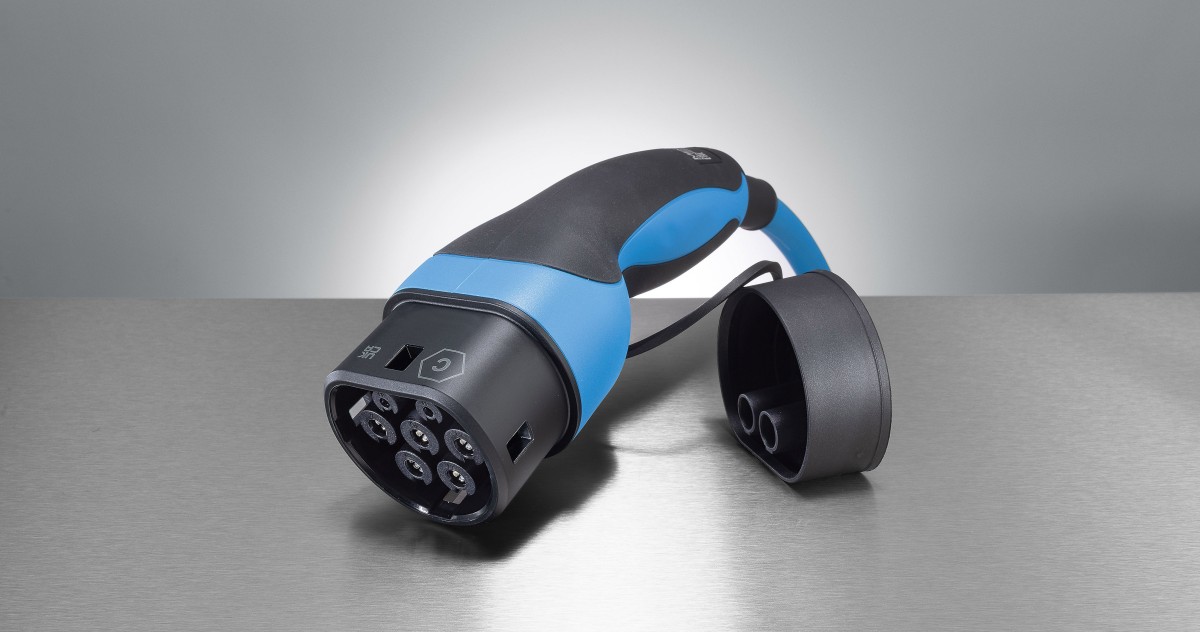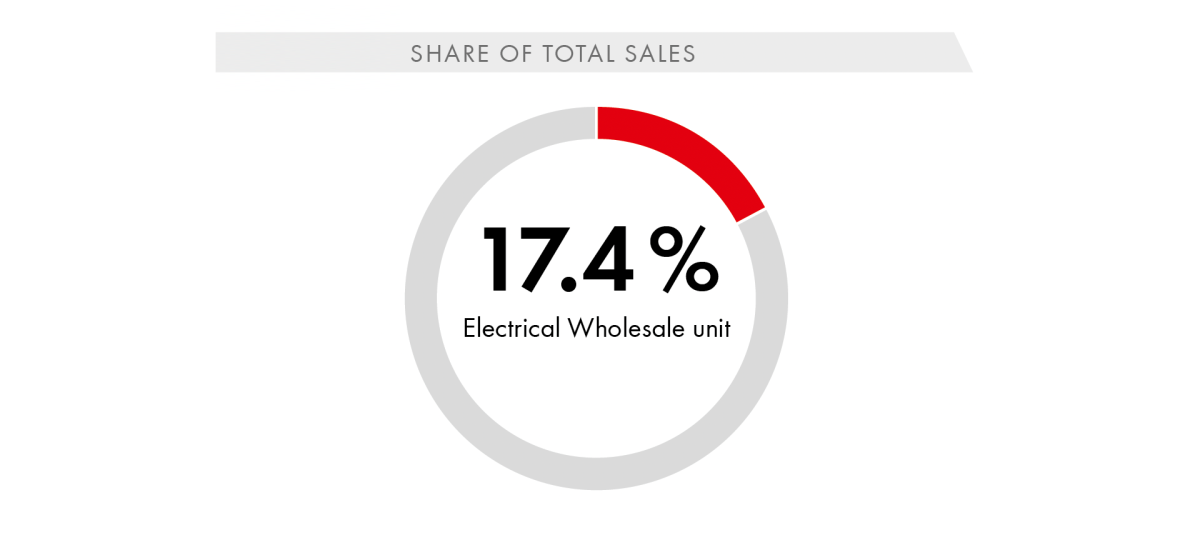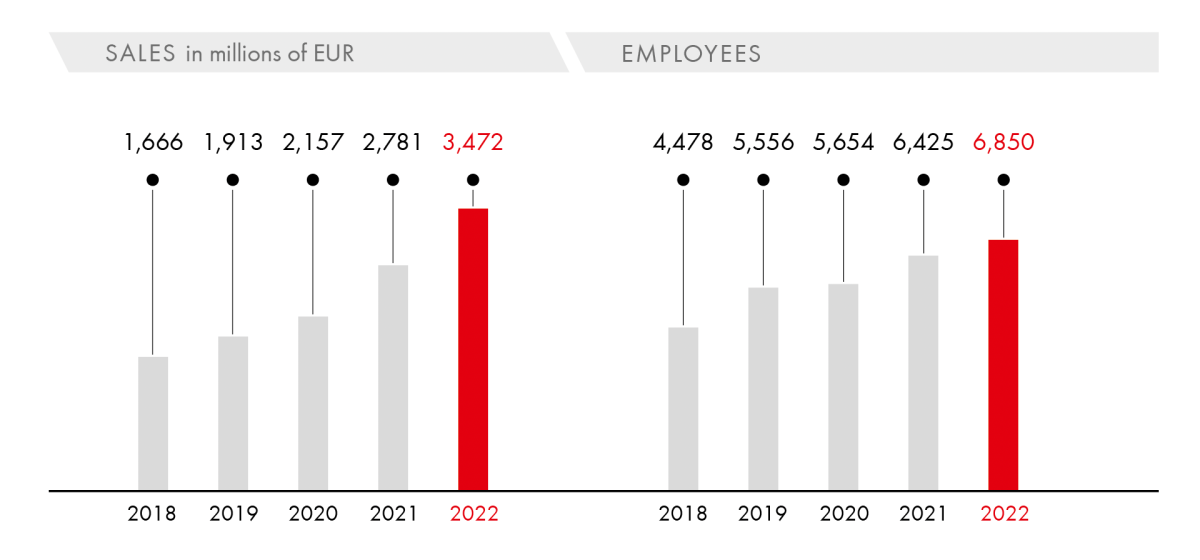 Electronics
The Electronics unit produces and sells electronic components such as printed circuit boards, electronic and electro-mechanical elements, and full system components from smart power and control systems.
Expansion of printed circuit board sales in Europe through the establishment of an international sales company: Würth Elektronik CBT International GmbH
Würth Elektronik ICS (intelligent power and control systems): market launch of a new product family for integrated function control and power distribution in mobile machinery and commercial vehicles
Würth Elektronik eiSos (electronic and electro-mechanical elements): completion and move into Hightech Innovation Center in Munich-Freiham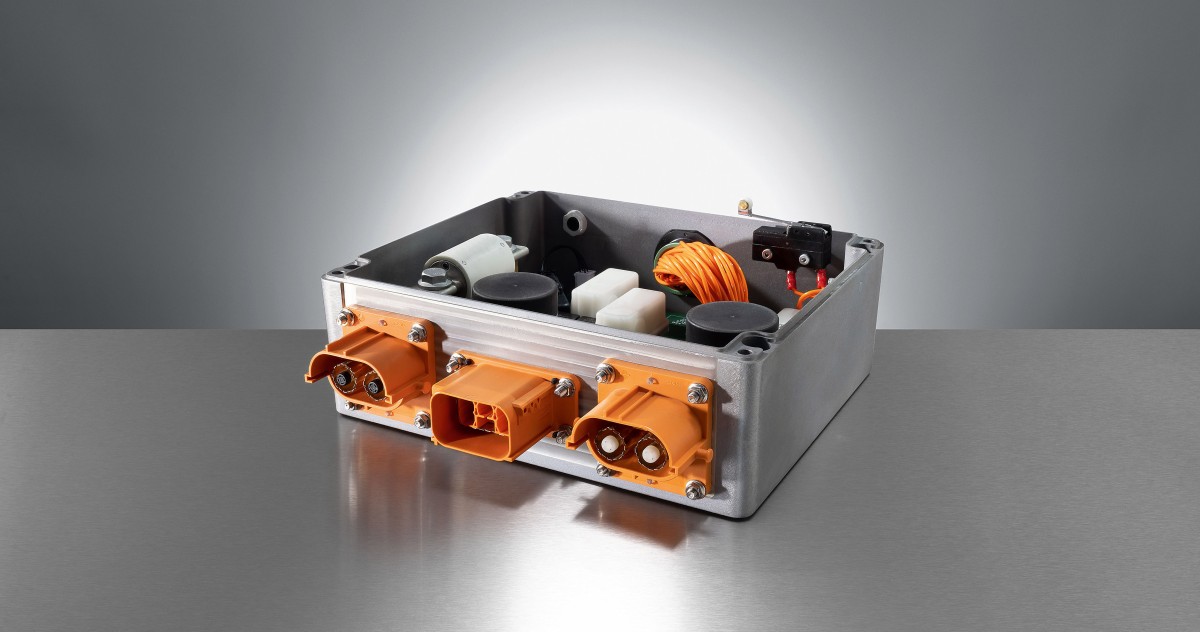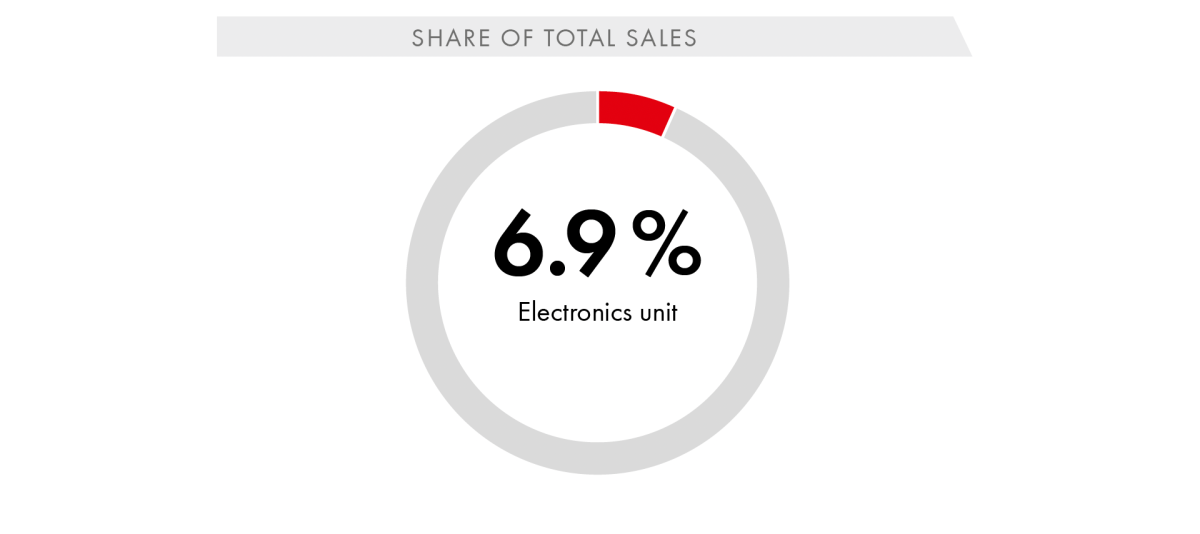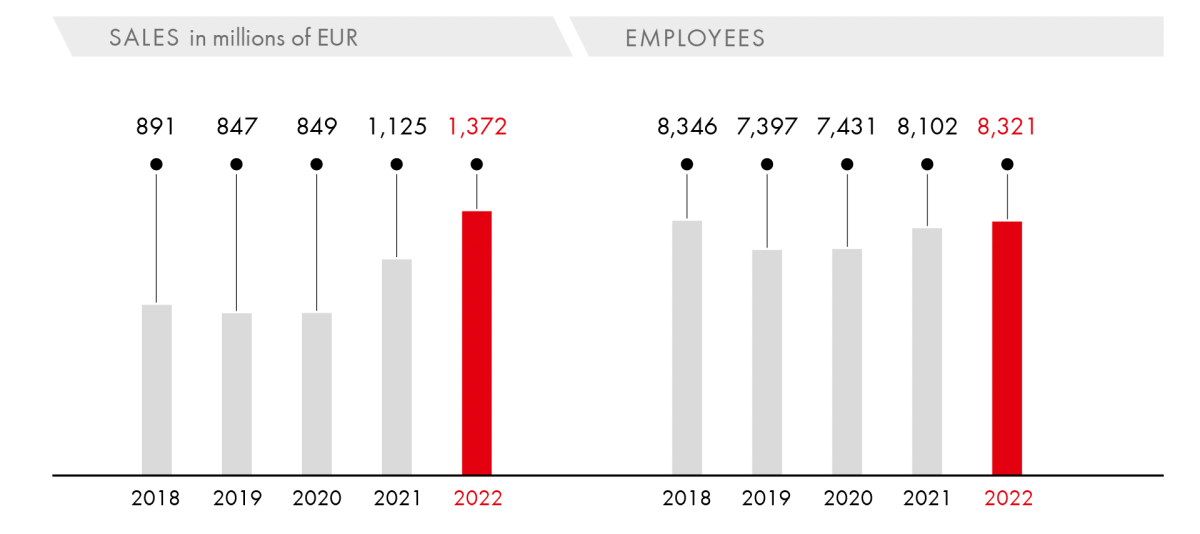 Production
The range in this business unit includes the production of coldformed parts, forming and punching tools, a variety of fasteners and fastening systems, furniture fittings, plastic assortment and storage boxes, as well as factory and vehicle equipment. The business unit supplies a range of customers, including customers from the construction sector, the automotive industry, manufacturers of kitchens and household appliances, and wholesalers.
SWG Schraubenwerk Gaisbach invests in a high-performance production line for geometrically fully formed screws with a total length of up to 1,000 mm and a thread length of 420 mm, and expands electroplating and hardening facilities to shorten delivery times and improve process sustainability
Arnold Umformtechnik supplies all parts from climate-neutral production
Grass Austria: investment in new production facility in Höchst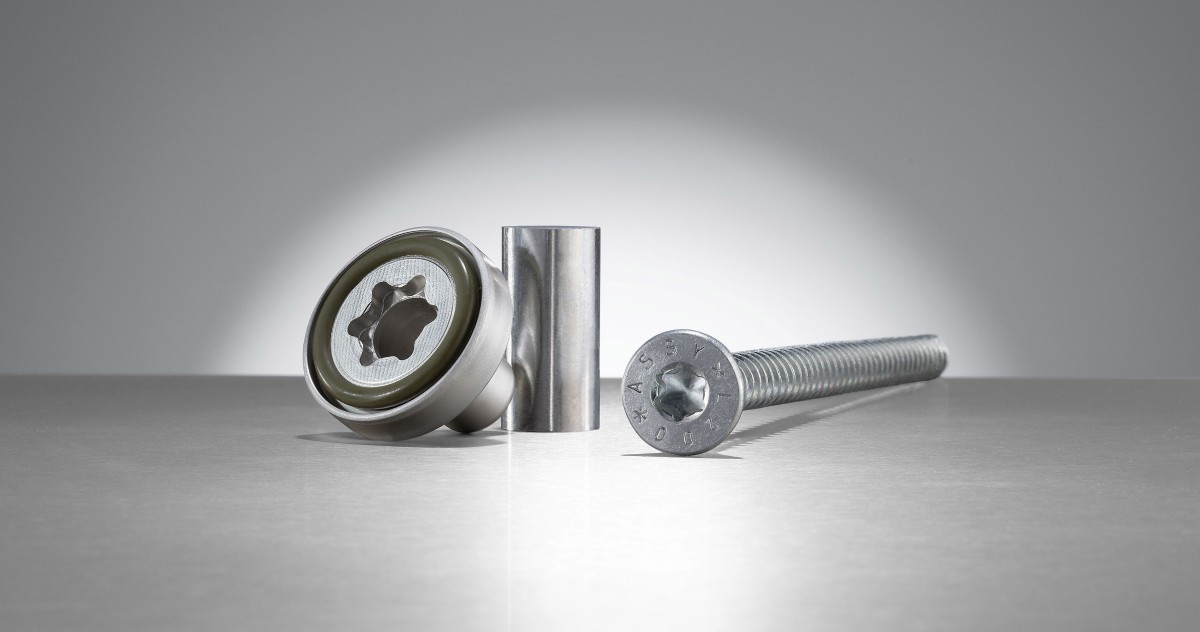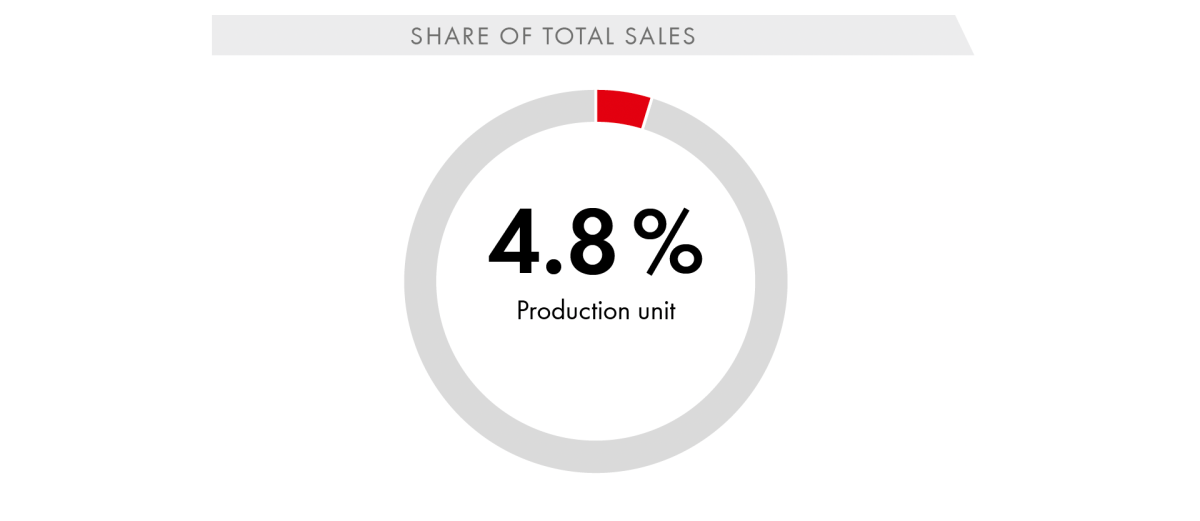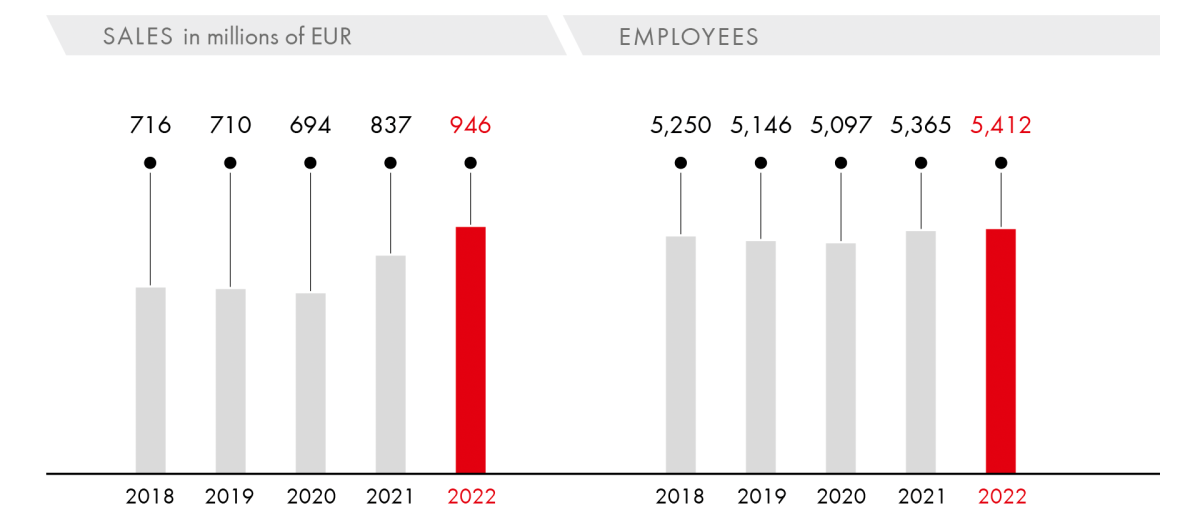 RECA Group
The companies of the RECA Group supply the industry and sell directly to construction, wood, metal, car, and cargo customers in 19 European countries. The company's portfolio includes tools, assembly and fastening materials, C-parts, workwear, advertising materials, and vehicle equipment.
Focus on services that help customers reduce procurement costs for small parts, such as Kanban and RFID-supported storage systems, the SECO® shelf management system, shelf and vending solutions for the direct retrieval of goods, and automated reordering for customers
Investment in digitalization and expansion of e-shops: Combination of digital sales systems and personal customer support provided by the sales force prove effective as growth levers
Broad product range and high delivery capability provide customers with supply chain security and help cut procurement and process costs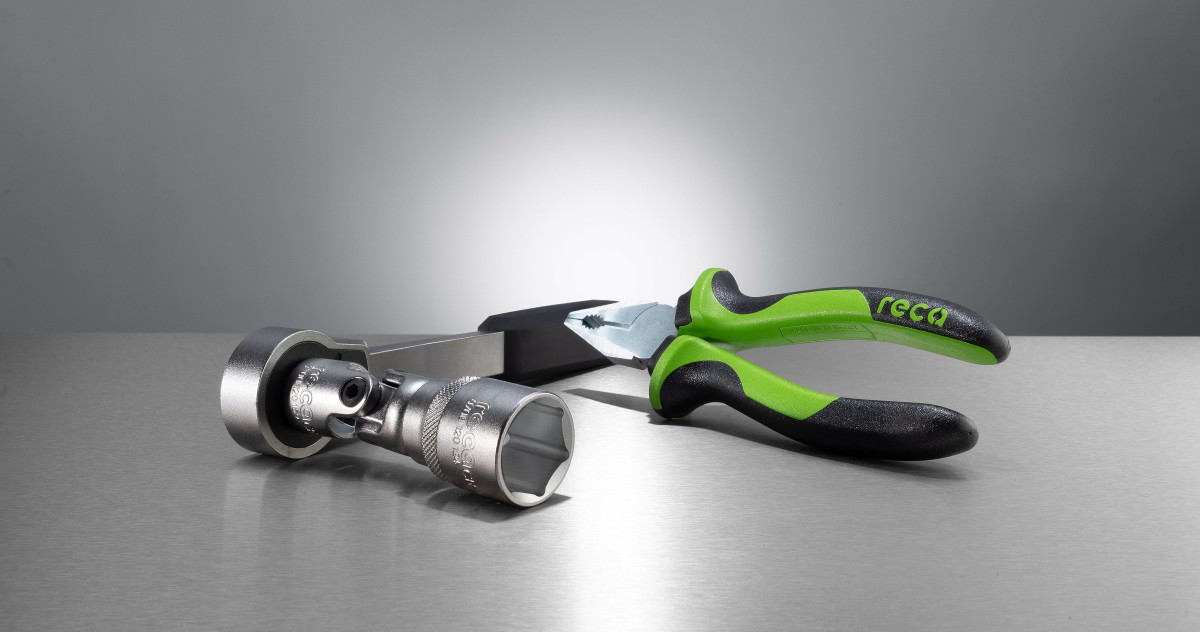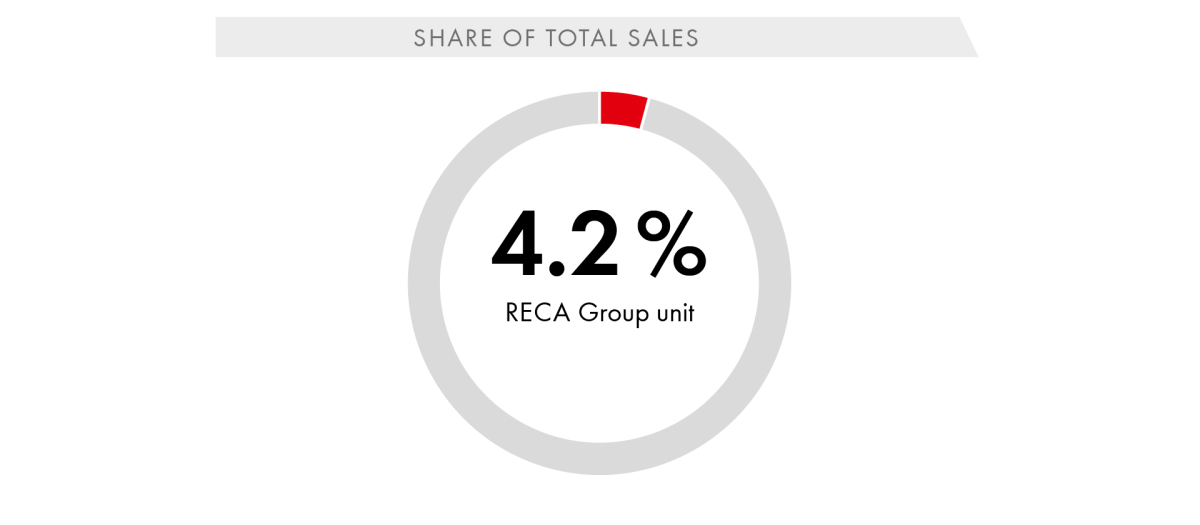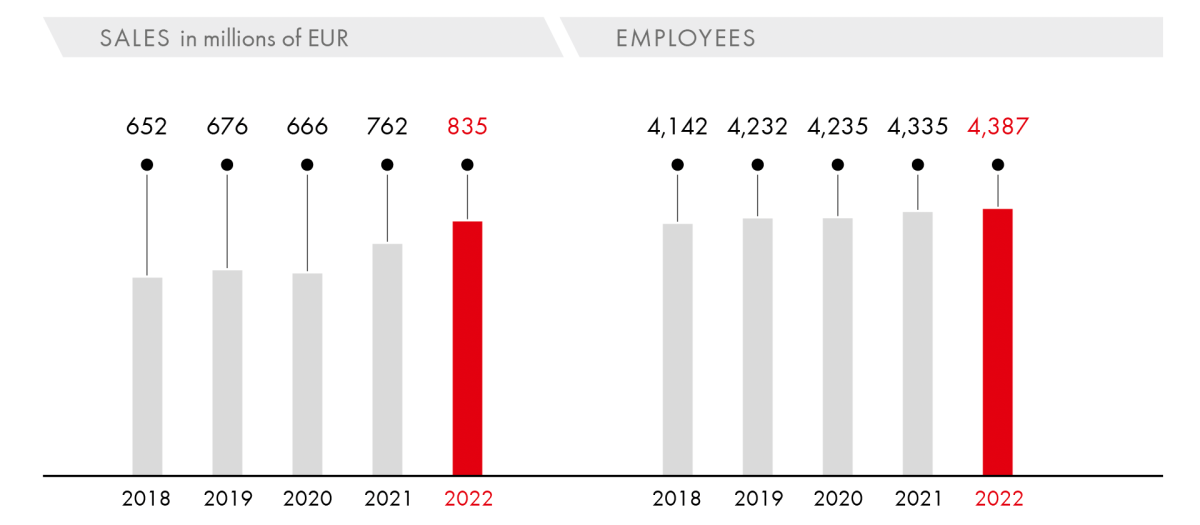 Chemicals
The companies in the Chemicals unit are responsible for the development, manufacturing, and distribution of chemical products for the automotive, industrial, and cosmetics sectors. They distribute both their own brands and private-label products and are recognized as innovation specialists and experts in their niche areas.
Procurement market created challenges in 2022 due to major supply bottlenecks for solvents as well as specialty chemicals and petrol
Kisling: acquisition of Copaltec GmbH in Böblingen, a specialist in the field of potting compounds
Liqui Moly: Two new electromobility products, fuel cell coolant and Top Tec Gear gearbox oil, set new strategic standards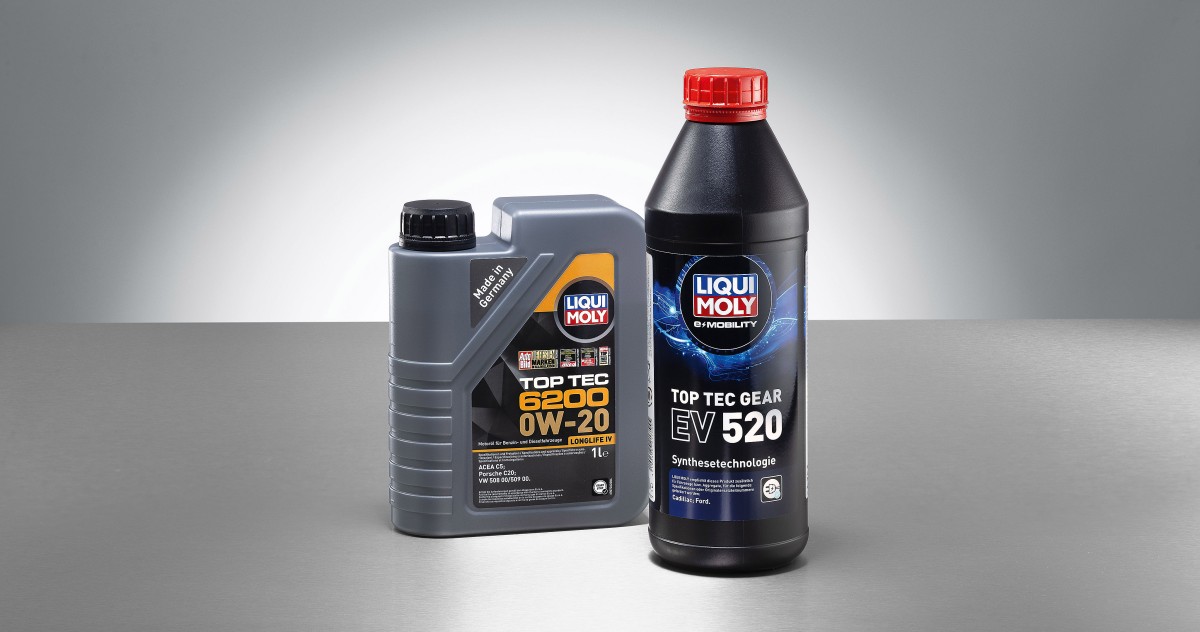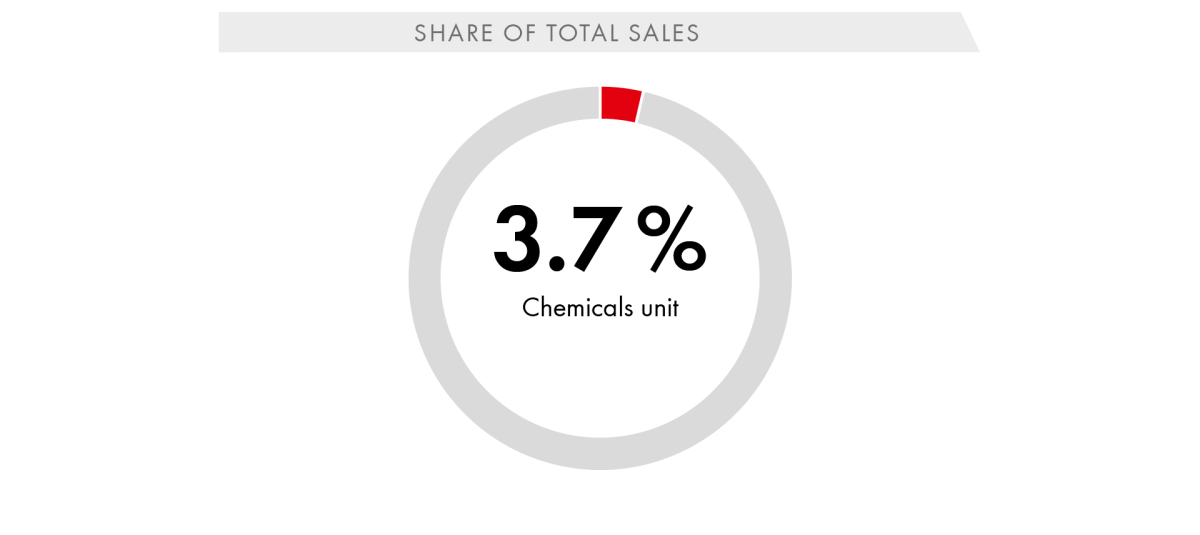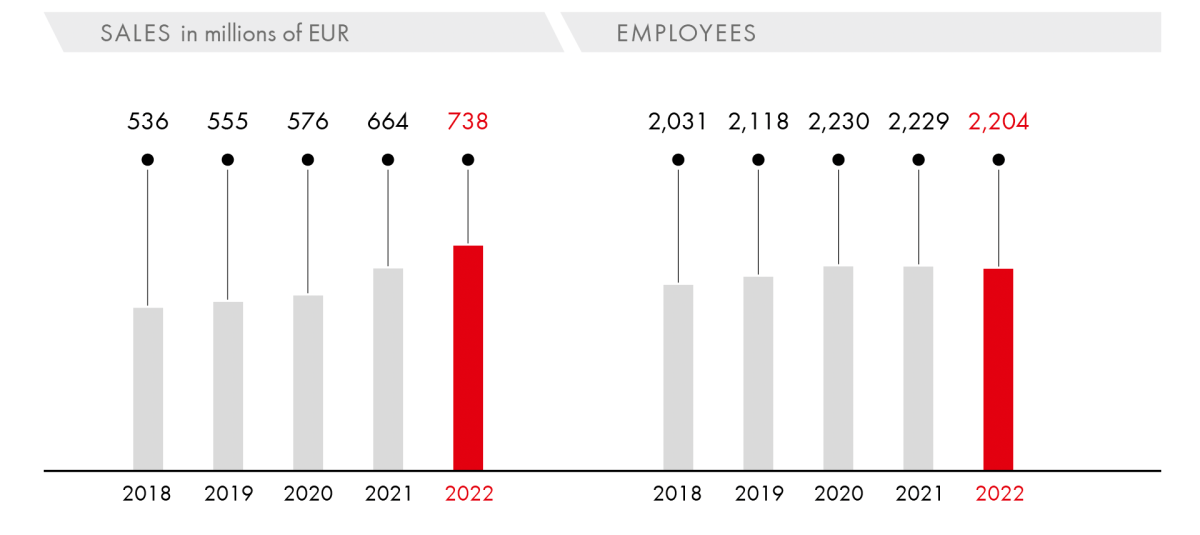 Trade
Companies in this business unit sell installation, sanitary, fastening and assembly materials, garden products, power tools, and hand tools. The range also includes furniture fittings for specialist stores and retailers, as well as products for DIY stores and discount stores.
Focus on securing supply chains, supply of goods, and gross profit
SWG: "Find it" all-in-one solution shelf receives the BHB-Branchen-Award 2022 from the Home Improvement, DIY and Garden Trade Association (Handelsverband Heimwerken, Bauen und Garten) in the "Best of Process" category
Further investments in IT infrastructure and forward-looking technologies such as electronic shelf labels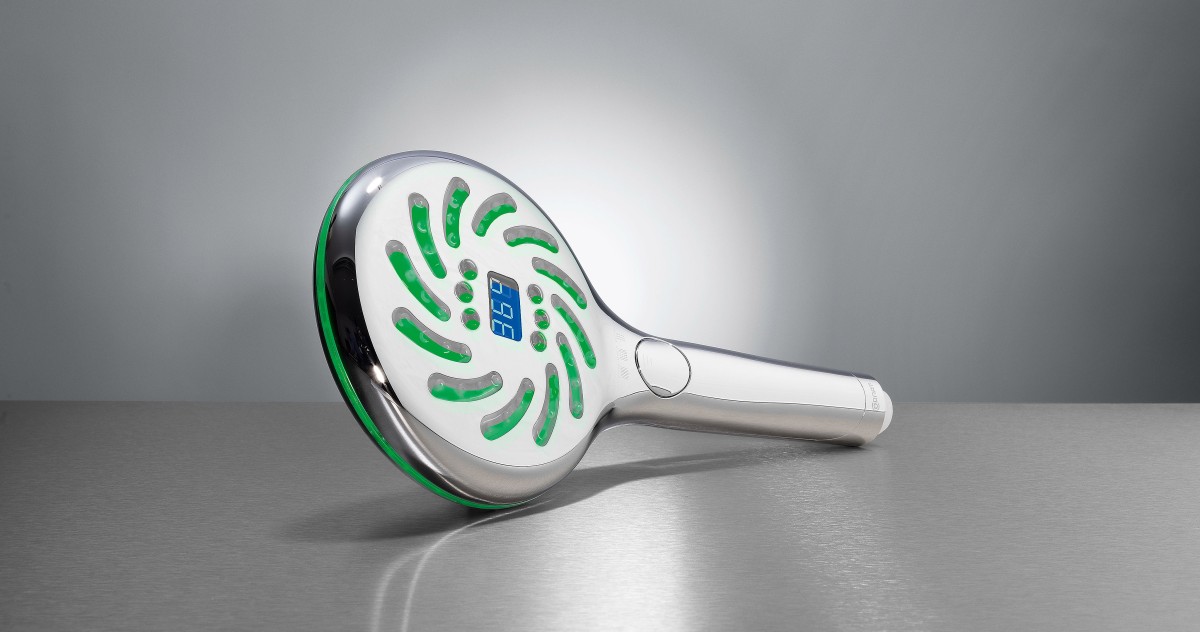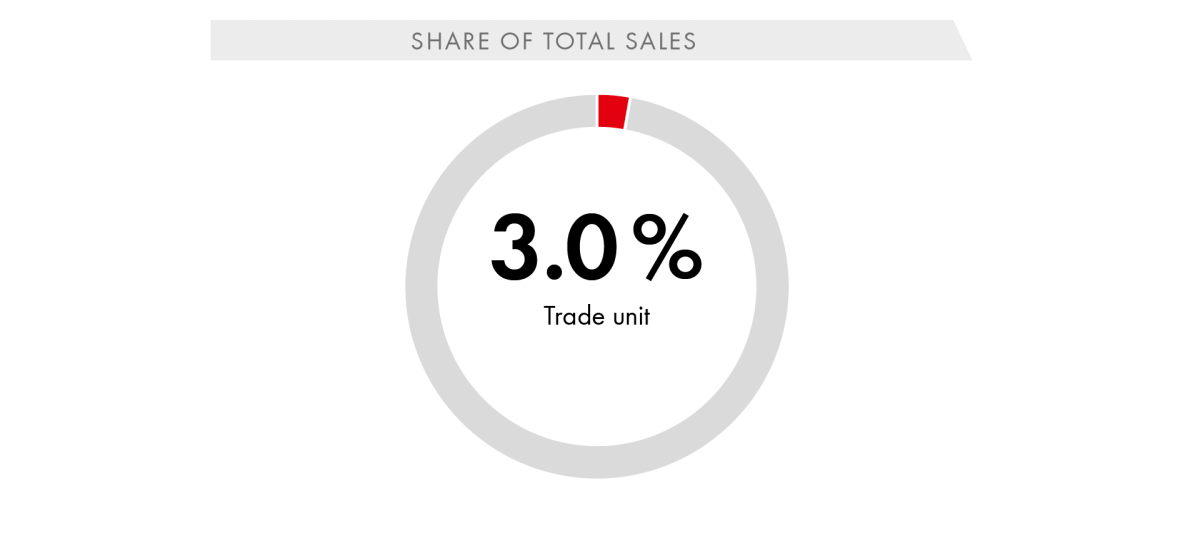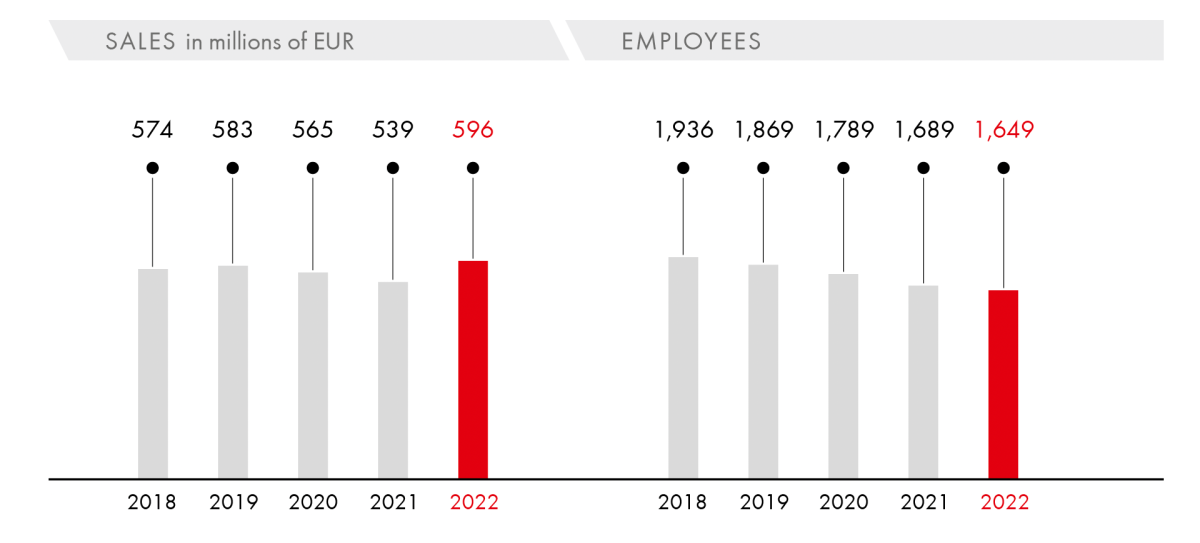 Tools
The tools companies supply customers in the metalworking and metal processing industries, particularly in the mechanical and plant engineering sector, and in the automotive manufacturing and automotive supplier industry. They sell products from the areas of drilling, milling, turning, clamping, grinding, testing and measurement equipment, hand tools, operating equipment, machinery, and personal protective equipment.
Use of e-business solutions and tool dispensing systems to boost customer loyalty and increase sales and productivity
Own brand ATORN®: focus on expanding the proprietary brand share, especially in the areas of metal cutting, hand tools, occupational health and safety, and measuring equipment
Implementation of sustainability projects such as recycled packaging, photovoltaic systems and electromobility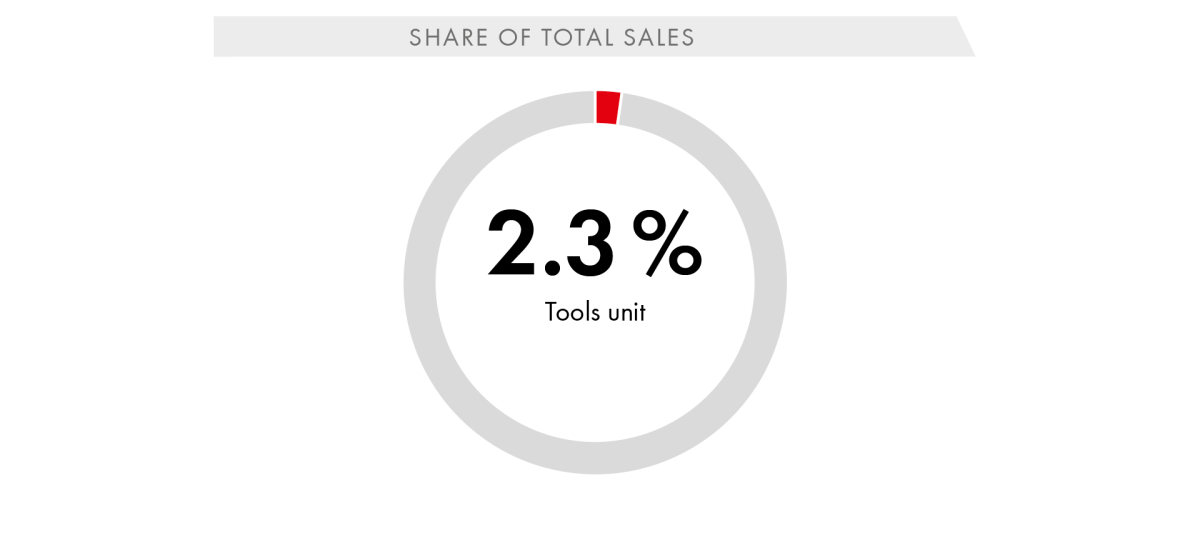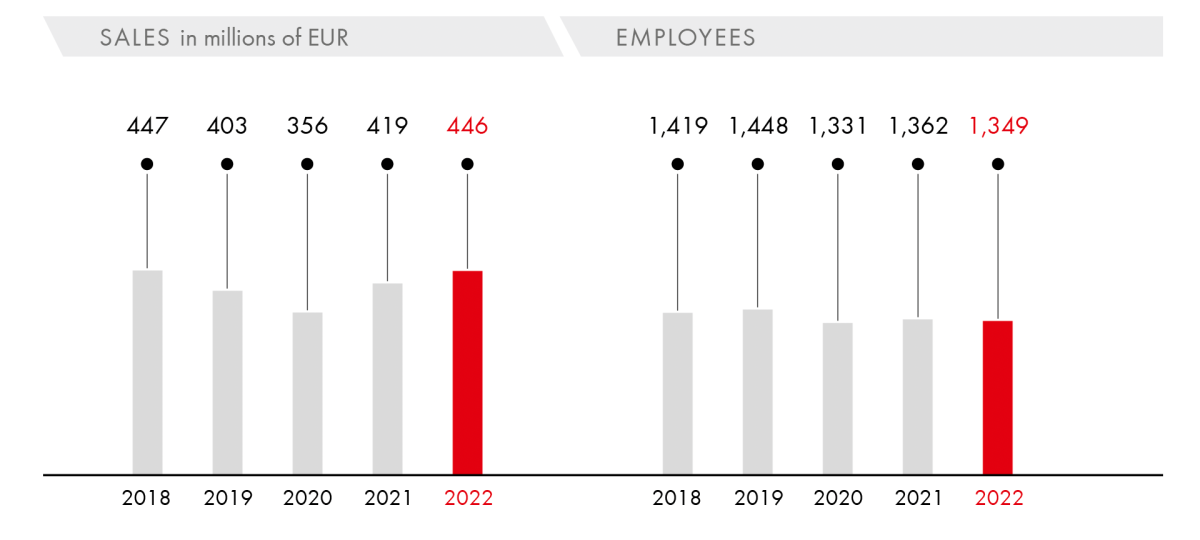 Screws and Standard Parts
The stainless steel companies are product specialists with supply concepts for industry and trade. The unit's main business activity is the sale of stainless connecting elements, in particular DIN and standard parts. The hydraulic companies specialize in trading in hydraulic connection technology and providing the associated services.
Stainless steel companies: focus on telemarketing, as well as acquisition and reactivation of high-revenue customers
WASI invests in renewable energies: New photovoltaic system supplies 70 percent of required energy
HSR: Hydraulics company expands digital services to support customers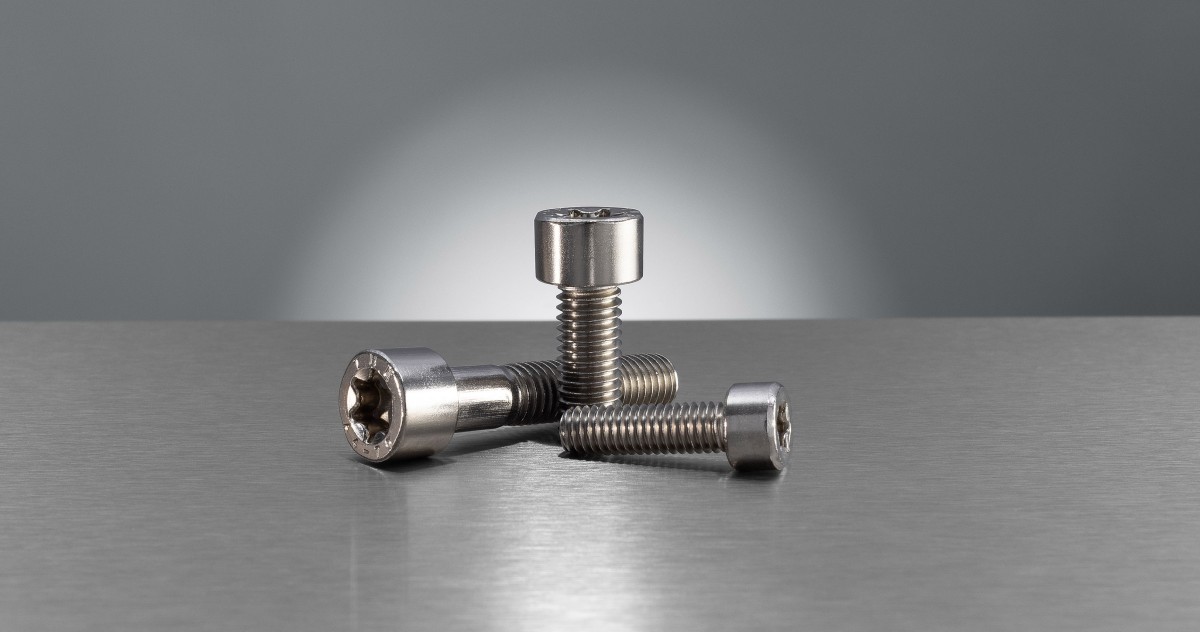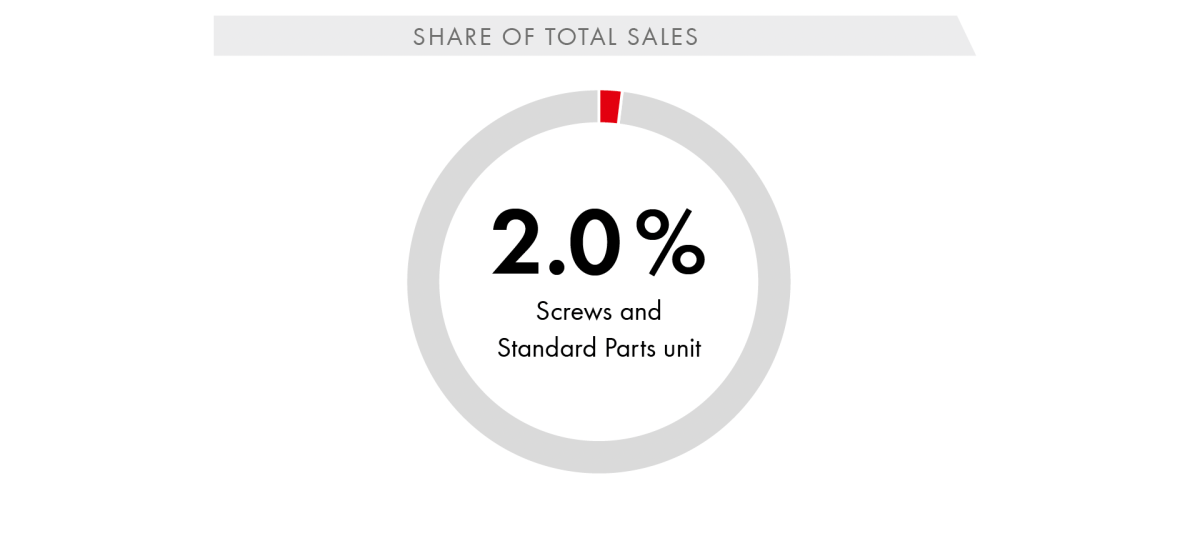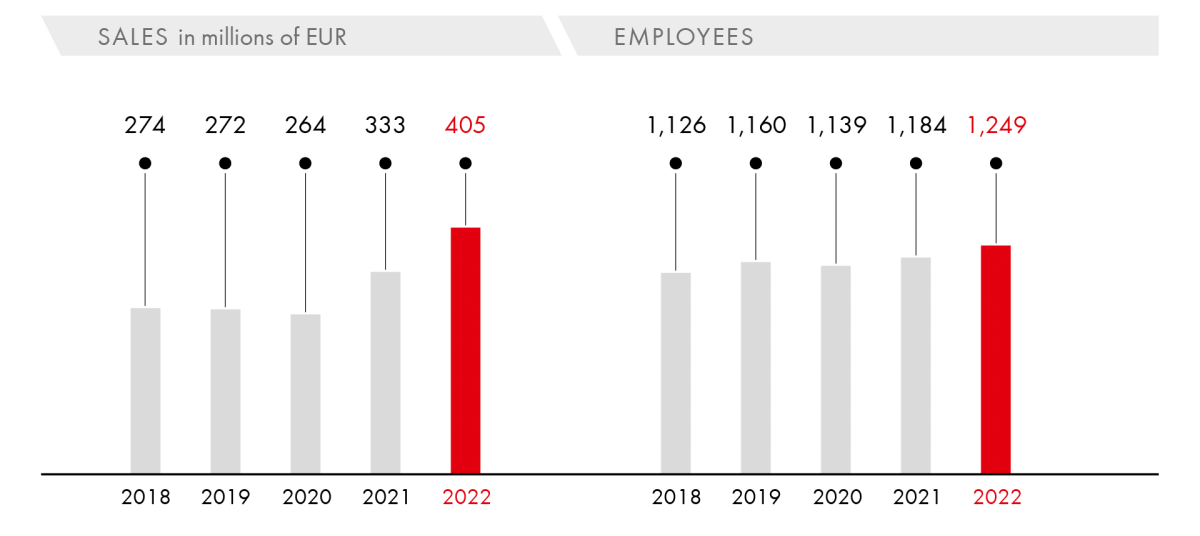 Financial Services
Security is a buzzword at the moment, especially in the financial sector. Thanks to its financial independence, the Würth Group offers this very security in all areas of financial services: financing, leasing, retirement plans, property and personal insurance, and asset management.
IBB Internationales Bankhaus Bodensee AG: stable result hit by impairment losses
Leasing companies secure further market share and offer their customers funds at attractive interest rates as part of the global loan program launched by the German state-owned development bank KfW
Waldenburger Versicherung: investments in digitalization, sales, and staff ensure future viability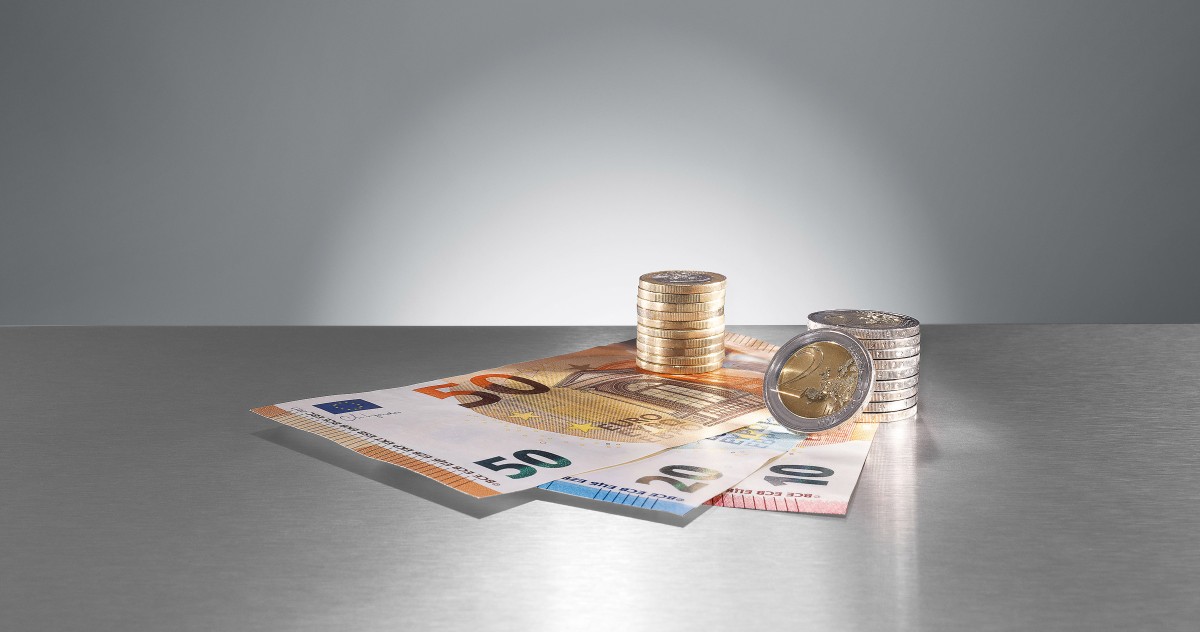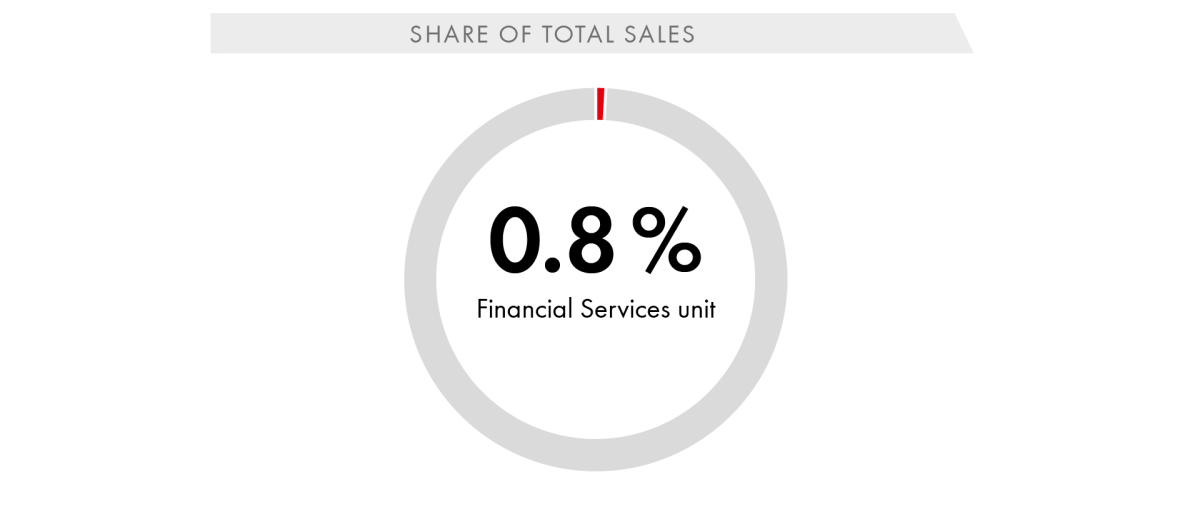 Net assets, financial position, and results of operations
---
Operating result doubled within the last five years
Cash flow down due to forward-looking portfolio management
Würth Group ups its investments
In the past fiscal year, the Würth Group was able to generate an operating result of more than EUR 1.5 billion for the very first time, doubling its earning power in the last five years to EUR 1,575 million (2017: EUR 780 million). This equates to a year-on-year increase of 24.0 percent (2021: EUR 1,270 million). Although the increase in sales in 2022 was once again very significant at 16.8 percent, the return on the operating result improved again to 7.9 percent (2021: 7.4 percent). We calculate the operating result as earnings before taxes, before amortization of goodwill, brands and financial assets, before the collection of negative differences recognized in profit or loss, before the adjustment of purchase price liabilities from acquisitions through profit or loss, and before changes recognized in profit or loss of non-controlling interests disclosed as liabilities.
One major reason for this very encouraging operating result, in addition to the strong increase in sales, is the consistently positive productivity trend for years now. Increasing process digitalization, the associated streamlining and constant improvements, even with regard to small details, were the main drivers behind this development. In addition, the pandemic meant that costs for travel, trade fairs, and conferences in 2022 had not yet bounced back to the pre-pandemic level. Although the shortage of materials in the industrial sector eased slightly over the course of the year, various sectors such as mechanical engineering and the automotive industry continued to be affected. Although the Group's own production facilities in Germany and Europe ensure a certain degree of independence from global supply chains, supply bottlenecks prevented an even more positive earnings trend at companies trading in tools and within the Würth Elektronik Group.
The German companies achieved an operating result of EUR 721 million (2021: EUR 639 million). The increase of EUR 82 million corresponds to growth of 12.8 percent. This brought the share of the Group's overall result attributable to the German companies to 45.8 percent, with the return on sales remaining stable at 9.2 percent. With a record operating result in excess of EUR 300 million for the first time, Adolf Würth GmbH & Co. KG made the biggest contribution to earnings, followed by Würth Elektronik eiSos. Other contributors include Würth Industrie Service, Fega & Schmitt Elektrogroßhandel, Liqui Moly, and Uni Elektro Fachgroßhandel.
An even more significant increase in earnings was achieved by the foreign companies, whose earnings rose by 35.3 percent to EUR 854 million (2021: EUR 631 million). This very positive development is evident across the board. Established companies in the Würth Line, Electrical Wholesale companies, the Würth Elektronik Group, and stainless steel dealers coped very well with the economic challenges and closed 2022 successfully. Significant improvements in earnings at the US companies, particularly in the industrial sector, also had a positive impact. New measures that were introduced, such as the consolidation of warehouse locations, started to bear fruit in the 2022 fiscal year, and the strategic adjustment is taking effect.
The ratio of cost of materials to sales was up on the previous year at 52.9 percent (2021: 51.4 percent). Material shortages and increased energy costs at suppliers, coupled with the associated purchase price increases, which could not be passed on in full to customers, were the main reasons behind this increase. At EUR 109 million, other operating income was up only very slightly on the previous year (2021: EUR 96 million).
At the end of December 2022, the Würth Group had a total of 85,637 employees. This equates to an increase of 2,454 employees. A new system was introduced in the fiscal year under review in order to better reflect the multi-channel strategy in employee classification. One key objective of the new classification is to provide a more accurate view of productivity. The main new feature is that the sales force has been combined with employees working in the pick-up shops and the e-business specialists. As a result, the main increase in employees could be seen in the sales area with 1,643 new colleagues. All in all, the ratio of personnel expenses to sales was down considerably year-on-year at 23.9 percent (2021: 25.6 percent). One reason for this is the improved sales productivity of all employees, with an increase of 12.3 percent.
At EUR 804 million, amortization, depreciation, and impairment losses were up slightly on the previous year (2021: EUR 776 million). Amortization, depreciation, and impairment losses include impairment losses on intangible assets, including goodwill, property, plant and equipment, and right-of-use assets amounting to EUR 44.4 million (2021: EUR 68.8 million). These mainly relate to the Russian companies. Due to the war in Ukraine and the related sanctions imposed on Russia, the Würth Group intends to sell its cash-generating units in Russia. For details, please refer to the comments in the notes on the consolidated financial statements in [24] "Assets classified as held for sale and liabilities in a group of assets classified as held for sale" in Section H. Notes on the consolidated statement of financial position. Depreciation and amortization increased by 7.4 percent to EUR 759.3 million (2021: EUR 706.8 million).
Other operating expenses showed slightly above-average growth of 18.1 percent compared to the previous year. The ratio was up slightly year-on-year at 11.9 percent (2021: 11.8 percent). There was a significant increase in packaging costs and the cost of energy, including fuel. Due to the increase in global mobility, travel costs are also higher again, although they have not yet returned to pre-pandemic levels.
The tax rate increased slightly in the 2022 fiscal year to 22.8 percent (2021: 22.4 percent). One major reason for this slight increase is an effect from an adjustment of tax-deductible amortization, depreciation, and impairment losses in future fiscal years. For a detailed analysis, please refer to Section G. Notes on the consolidated income statement, [10] "Income taxes", in the consolidated financial statements.
Overall, the 2022 fiscal year was better than expected with sales of EUR 19.9 billion and an operating result of EUR 1.6 billion. Despite the difficult economic and political conditions created by the war in Ukraine, the material and supply bottlenecks and the price increases, new records were achieved. The Würth Group has once again clearly demonstrated its ability to perform by spreading risks through its international positioning, diversification across various business areas, and its multi-channel strategy. Its broad positioning, which once again proved to be relatively resistant to crisis in 2022, means that it is able to compensate for economic fluctuations in individual submarkets.
Net income for the year increased to EUR 1,194 million. Our gross profit—that is to say, sales minus the cost of goods sold—came under considerable pressure due to developments on the global procurement markets. The staff turnover indicator deteriorated slightly compared with the previous year, also due to the improved economic conditions in our main core markets. In a long-term comparison over the last 20 years, staff turnover is at an acceptable level. For the second year in a row, there was a double-digit increase in productivity. Overall, the Central Management Board is satisfied with developments in the 2022 fiscal year. The targets set for sales and the operating result were surpassed.

Capital expenditures and cash flow
The energy crisis, inflation, the war in Ukraine, an incipient recession, supply chain difficulties, the COVID-19 pandemic: 2022 was a year characterized by many challenges. The Würth Group nevertheless broke numerous records. Investments were stepped up to ensure that this positive trend continues in the future. At EUR 821 million, investments (excluding right-of-use assets under IFRS 16) increased by a significant 48.5 percent compared to the previous year (2021: EUR 553 million). This also reflects a certain amount of pent-up demand from previous years in which the Würth Group was more cautious in its investments in its quest to pursue a commercially prudent approach. Growth is inextricably linked to the self-image of the Würth Group as a matter of principle. Growth by tapping into new markets and growth in existing markets require optimal underlying conditions. One of the ways in which the Würth Group achieves such conditions is through sustainable investment. Over the past ten years, the Group has invested more than EUR 5.4 billion in intangible assets and in property, plant, and equipment. In 2022, investments focused on the expansion of IT infrastructure and warehouse capacities for our distribution companies, as well as on production buildings and technical equipment and machinery for our manufacturing companies.
In April 2022, for example, the foundation stone was laid for another Arnold Umformtechnik production site in Hohenlohe. For the first phase of construction work, the company is investing around EUR 20 million in the new Forchtenberg/Rauhbusch site, where Arnold Umformtechnik, as a manufacturer of high-quality connecting and fastening systems, intends to forge ahead with the "Conform Next" product range in the future, which is in particularly high demand in the mobility industry. The second construction phase will see a further production building being constructed starting in 2024. In the medium term, several hundred people are to be employed at the new site. A total of EUR 100 million will have been invested by then. In addition to manufacturing innovative products, the focus is also on climate protection and energy conservation. The planned wood and concrete construction is just one example of Arnold Umformtechnik's many ambitions in its quest to produce sustainable products at a sustainable location.
In addition to the Allied Companies, the Würth Line companies also made substantial investments in expanding their logistics capacities for future growth. Both Würth France and Würth Italy kicked off the largest investment initiative in their company's history in 2022. At Würth Italy, work started on the conversion of the logistics center in Neumarkt with an investment of EUR 60 million, the project being scheduled for completion in mid-2025. The work will create a shuttle warehouse with a three-story functional building for all outgoing goods functions. The plan is also to reduce oxygen levels in the shuttle warehouse so that it can be used to store hazardous goods as well. This investment in logistics will enable Würth Italy to achieve further sales growth, establish additional customer services, and reduce inbound and outbound costs.
Over EUR 60 million is being invested in the modernization and expansion of the Würth France logistics center in Erstein, a project that is also scheduled for completion by 2025. Plans include a fully automated high-bay and shuttle warehouse. It consolidates customers' orders thanks to a package buffer warehouse. If an order consists of several packages, the packages that have already been prepared wait in the shuttle warehouse until the others are ready. This means that customers receive fewer individual deliveries and, at the same time, the environmental impact is reduced due to the need for fewer trips. In addition, as with Würth Italy in Neumarkt, the logistics expansion measures in Erstein also involve reducing oxygen levels, and we are modernizing a large portion of the current logistics center. Aside from a new conveyor system, employee workstations are being revamped to make them more ergonomic.
In addition to investments in production and storage space, we have also, as in previous years, invested in our ORSY® storage management system, which offers our customers storage and provision options for various consumables and supplies in line with their needs. A total of 48.8 percent of the total investments were made in Germany (EUR 401 million). This reflects how important the domestic market continues to be for the Würth Group.
The investment controlling system, which has been further refined in recent years to feature sophisticated recording and detailed analysis options, allows the Central Management Board to respond to any changes that emerge at very short notice and to adapt to new conditions at any time of the year. In 2022, the Würth Group once again remained true to its approach of financing investments in intangible assets and property, plant, and equipment (excluding right-of-use assets under IFRS 16) entirely from its operating cash flow. Our cash flow from operating activities came in at EUR 867 million (2021: EUR 1,034 million). This represents a decrease of 16.2 percent year-on-year, which is mainly due to more funds being tied up in inventories in response to the crises and inflation despite the increased result. This, in turn, bears testimony to the company's far-sighted management of resources: The tense situation on the procurement markets prompted the company to build up safety stocks in order to ensure that it could continue fulfilling orders. The increase in trade receivables also contributed to the drop in cash flow from operating activities.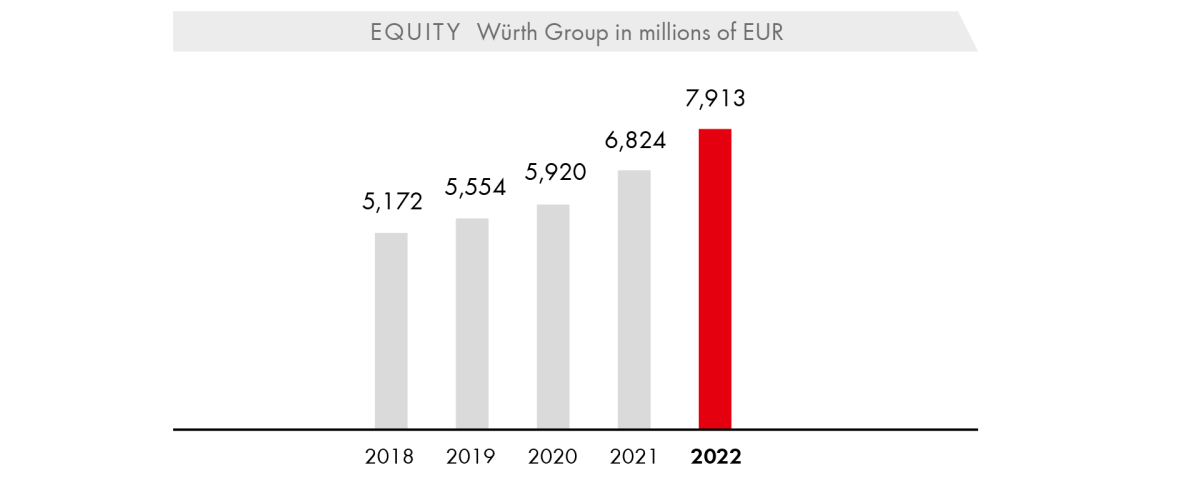 Purchasing
The tense global political situation is still having a negative impact on the global economy. This was also reflected in the purchasing managers' indices for Europe and Germany. At the end of December 2022, the indices stood at 47.8 points for the eurozone and 47.1 points for Germany. The purchasing managers' indices for Germany and Europe slipped to their lowest point for 2022 in October at 45.1 and 46.4 points, respectively. Since July, the values for these two markets have been lingering below the 50-point mark. This suggests that leading purchasers expect to see negative market developments.
In China, the purchasing managers' index rose to 49.0 points in December 2022, but remains below the 50-point mark. The situation for the Würth Group's buyers was a very challenging one throughout 2022. The global economy remains under huge pressure. Global political conflicts, price increases, and supply bottlenecks are just a few of the big issues that dominated the situation on the procurement market. Production bottlenecks and congestion in container shipping were the order of the day in 2022, putting a strain on the global exchange of goods. Ship congestion in European ports, such as those on the North Sea, also increased again during the year. As a result, supply chains remained unstable at the end of 2022 and delivery performance was under continuous pressure. The raw material situation varied considerably from product segment to product segment. For example, the availability of steel, aluminum, and plastics improved significantly, particularly in Asia, while the technical chemicals sector remained plagued by disruption.
As a result of the heavy influence of the global political environment on procurement markets and the Russia-Ukraine conflict, further challenges arose, such as the energy crisis in Europe. Many suppliers confronted companies in the Würth Group with renewed price demands, which they justified by pointing to the drastic increase in energy and gas prices. Generous collective pay scale agreements are also putting pressure on Würth's suppliers and manufacturers.
Currency policy and the associated weak euro had an increasing impact on purchasing prices and the buying behavior of Würth's customers over the past fiscal year. Moves by the Federal Reserve Bank and the European Central Bank to boost key rates were designed to curb inflation. This meant, however, that the US dollar reaped considerable benefits from the Federal Reserve's significantly higher interest rate hike, while the euro recorded its lowest purchasing power in 20 years. This naturally had a negative impact on all purchases in dollars.
Inventories and receivables
Due to its business model, inventories and receivables are key balance sheet items for the Würth Group. The company's management keeps a constant eye on managing and optimizing them. The ongoing difficulties in procuring goods again played a major role in inventory management in 2022. We had to contend with supply bottlenecks in various areas, such as fasteners and hand tools. As in 2021, one key advantage for the successful sales development reported by the Würth Group in 2022 was the fact that the companies were able to deliver. The Group made the conscious decision to increase inventories or keep them at a high level by purchasing safety stocks. This also led to a slight increase in the service level over the course of the year to 94.9 percent. This means that out of 100 items ordered, 95 were delivered to the customer the next day. In retrospect, it became clear that increasing inventories was exactly the right measure, because alongside sales, logistics is a central element within the Würth Group. Without the targeted measures to build up inventories, it would never have been possible to achieve the strong sales growth of 16.8 percent. Overall, the Würth Group's inventories increased to EUR 3,828 million (2021: EUR 3,064 million), up by 25.0 percent on the previous year. The inventory buildup reached its peak in September 2022, by which time it was foreseeable that the situation on the procurement markets would ease somewhat. Stock turnover, calculated on a 12-month basis, nevertheless fell from 4.9 times at the end of 2021 to 4.2 times at the end of 2022.
Since the start of the COVID-19 pandemic, safeguarding liquidity in the Würth Group has been even more of a priority than in previous years. This approach was prompted primarily by fears of increasing corporate insolvencies or at least delayed incoming payments. This prompted Würth to keep a close eye on the development of receivables. The long-established controlling systems, which allow the Group to take fast action in response to any undesirable developments that may emerge, helped the Würth Group to stay on top of the situation at all times. Thanks to extremely efficient interaction between sales and receivables management, the Group succeeded in keeping the increase in trade receivables at 18.7 percent to EUR 2,819 million (2021: EUR 2,376 million) only slightly ahead of the Group's sales growth of 16.8 percent. At 54.0 days, the collection days key figure (based on a 12-month calculation) was, however, up on the figure for the previous year (2021: 52.5 days). The increase in this key figure was somewhat more moderate in Germany, at 41.2 days in 2022 compared with 40.2 days in 2021, than outside Germany, where it was up to 62.3 days compared with 60.9 days at the end of 2021. We will continue to optimize accounts receivable by means of effective cooperation between sales and accounts receivable management, as well as by refining our analyses. We see the payment patterns of debtors as critical in Southern Europe, China, and the Middle East, as they can slow growth.
The percentage of bad debts and the expenses from additions to value adjustments related to sales remained constant at 0.4 percent (2021: 0.4 percent).
Financing
The Würth Group's equity increased to EUR 7,913 million last year (2021: EUR 6,824 million). This equates to an increase of 16.0 percent. This increase of EUR 1,089 million pushed the equity ratio up to 46.0 percent (2021: 45.2 percent), a very good level for a trading company. The high level of equity financing allows the company to be largely independent of external capital providers, which is a must particularly in times of crisis. In addition, a good level of equity capitalization has been the basis for consistently high levels of financial stability and the solid financing of our group of companies for years, strengthening customers' and suppliers' trust in the Würth Group. As a family business, the Würth Group has largely reinvested profits in the company for decades.
The increase in inventories and receivables associated with the higher business volume and the increase in property, plant, and equipment due to investments fueled an increase in total assets of EUR 2,074 million to EUR 17,188 million (2021: EUR 15,114 million).
Refinancing in the banking sector was mainly achieved via customer deposits and financial intermediaries, as well as via the European Central Bank, while refinancing in the leasing segment was achieved mainly through the ABCP (Asset Backed Commercial Paper) program created especially for this purpose, a global loan program launched by the German state-owned development bank KfW, as well as through non-recourse financing and internal funds.
The Würth Group has undergone an annual rating process for more than 25 years now. The leading rating agency Standard & Poor's once again confirmed the Würth Group's "A/outlook stable" rating in June 2022. This rating reflects the confidence that business and the financial KPIs will continue to develop successfully. The outlook for the Würth Group is viewed in a positive light. Our long history of good ratings not only documents the positive credit rating. At the same time, it is proof of the continuous and successful development of our corporate group and the stability of our business model.
Investments and the increase in inventories and receivables in the year under review increased the Würth Group's net debt to EUR 987 million, up from EUR 567 million in 2021. For financing purposes, the Würth Group had four bonds issued on the capital market at the end of the 2022 fiscal year with a total volume of EUR 1,850 million plus CHF 300 million (2021: EUR 1,750 million). The 1 % bond due in May 2022 was repaid early on 21 February 2022 using the company's own funds. As part of the "Euro Medium Term Note" program, the Würth Group successfully placed a EUR 600 million bond on the market via its finance company Würth Finance International B.V. on 25 May 2022. The bond, which has a term of 8.25 years expiring on 23 August 2030, has a coupon of 2.125 percent p.a. and is secured by an unconditional, irrevocable guarantee provided by Adolf Würth GmbH & Co. KG. In addition, October 2022 saw the Würth Group place a bond for CHF 300 million on the Swiss capital market for the first time in 13 years. The bond, which has a term of four years, has a coupon of 2.1 percent p.a. and is also secured by an unconditional, irrevocable guarantee provided by Adolf Würth GmbH & Co. KG. Further bonds of EUR 500 million and EUR 750 million will mature in 2025 and 2027 respectively. This means that the maturities are well spread out. For further details, please refer to [27] "Financial liabilities" in Section H. Notes on the consolidated statement of financial position, in the consolidated financial statements.
The Würth Group has sufficient liquidity reserves. As of 31 December 2022, cash and cash equivalents came to EUR 1,215 million (2021: EUR 1,217 million). In addition, the Group has a fixed undrawn credit line of EUR 500 million provided by a syndicate of banks until September 2027. As a result, the Würth Group continues to have extremely generous financial resources at its disposal, giving it the leeway it needs to act.
---
For more than 30 years now, Würth has been investing in research and development with the aim of further expanding its expertise as a leading manufacturer and distributor of fastening technology for professional applications. The Würth Group already generates around 50 percent of its sales with products manufactured within the Group or incorporating its own development expertise.
A central component of the research and development work is to link individual products, services, and application steps to create efficient work processes, making customers' work easier and meeting their future requirements. The focus is on Würth's fields of expertise: fastening technology, screws, anchors, chemicals, power tools, and systems.
In the future, product and service innovations will receive another boost. On 28 September 2022, Reinhold Würth Innovation Center Curio was inaugurated at the company's headquarters in Künzelsau-Gaisbach. Modern climate chambers, workshops, and one of the world's most efficient fastening technology test centers were built on premises spanning 15,500 square meters, along with test facilities for power tools and IoT.
Around 250 employees from the product management, quality assurance, and R&D departments of Adolf Würth GmbH & Co. KG and from the Group's production companies work alongside external scientists thanks to university partnerships.
Cooperation with the Karlsruhe Institute of Technology KIT, as well as the University of Stuttgart and Reinhold-Würth-Hochschule of Heilbronn University of Applied Sciences on the Künzelsau campus, creates a cluster of specialized knowledge and application expertise. This enables solutions from university research to be implemented more quickly in industrial practice.
In these endeavors, the company's R&D staff already rely on state-of-the-art technology and their own certified fastening technology laboratory. The relevant environmental concerns are cross-checked in climate chambers. Thanks to the additional large-scale climate chambers installed in the new innovation center, it will be possible to test elements of relevant components even faster in the future.
The innovation center will also expand the IoT laboratory for digitally networked products. The existing PowerTools laboratory will be expanded as well. Power tools, which are adapted to suit Würth's tools and our customers' applications, allow our customers to be more productive.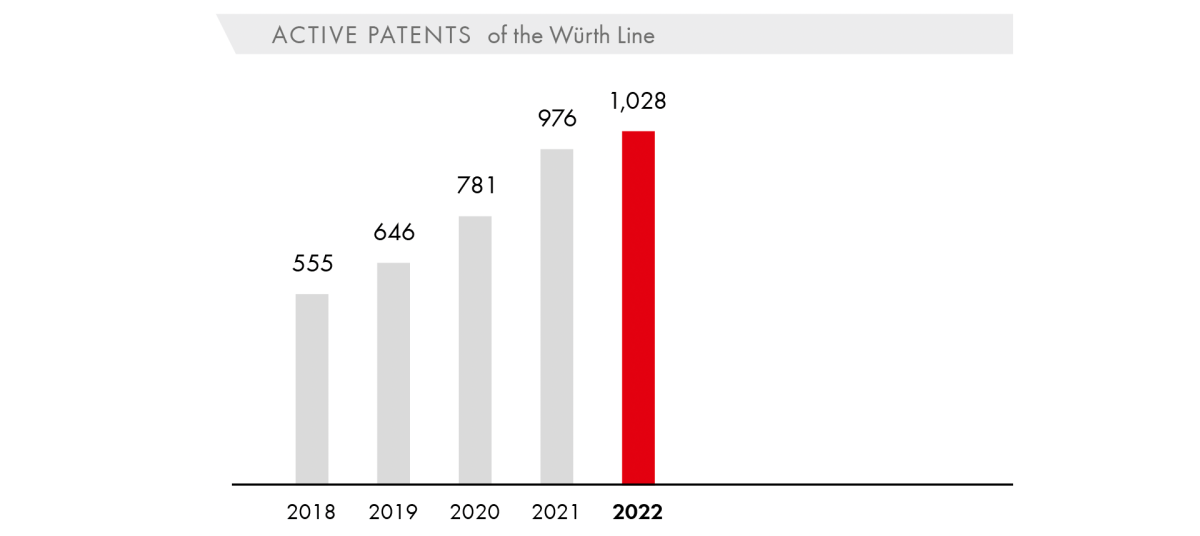 Innovations are a top priority throughout the Group. At present, the Würth Line has over 1,000 active patents and two active utility models. The Allied Companies have a combined total of over 1,300 active patents. The Group has more than 1,300 registered designs and over 8,100 active trademarks. The following are three forward-looking products that serve as examples of the wide range of innovations from the Würth Group:
Würth Line: Adolf Würth GmbH & Co. KG
SHARK® TWIST universal multi-purpose anchor makes work easier for the trades
The Würth Group develops and produces the majority of its anchor assortment in-house. High-quality fastening solutions are created using the knowledge of numerous experts, state-of-the-art technology at production sites in Switzerland and Germany, and many years of experience.
With SHARK® TWIST, Würth has succeeded in further enhancing the current technology used in multi-purpose anchors. The new plastic anchor stands out due to enhanced user-friendliness and an improved basic function.
The SHARK® TWIST consists of two components that provide flexibility between the anchor sleeve and the anchor ribs. This allows for multiple knotting in cavities, with a very high load-bearing capacity thanks to the large contact surface of the expansion arms. The design of the SHARK® TWIST, which is made of expandable and robust material, means that the anchor holds in almost every common building material.
The multi-purpose anchor can be combined with different types and diameters of screws. It features integrated protection against overwinding and is easy to use: The SHARK® TWIST can be set flush using just one finger. The aim is to make anchor installation more time-saving for customers.
Allied Companies: WOW! Würth Online World GmbH and Arnold Umformtechnik GmbH & Co. KG
There are many different facets to mobility. The following Würth Group companies serve as examples of how the Group is rethinking mobility and helping to shape it at the same time.
LOOQIT® diagnostic software simplifies access to encrypted vehicles
The WOW! Würth Online World has developed the Security Gateway Portal (SGP) in close cooperation with vehicle manufacturers. Using one-time authentication, customers can access the SGP using the LOOQIT® diagnostic software, making it easier to work on encrypted vehicles.
This new solution was developed in response to increasing digitalization in the automotive industry. Vehicles are becoming increasingly networked, making them more vulnerable to hacker attacks. Motivated by these security concerns, vehicle manufacturers have therefore integrated what are known as security gateways to encrypt data and control units. Vehicle access via multi-brand diagnostic devices and on-board diagnostics is partially restricted for workshops. The SGP remedies this by providing easy vehicle access.
The WOW! diagnostic database and its features are being continuously enhanced to incorporate new developments to meet the requirements of new vehicles and the associated tasks and services in the workshop.
Conform® Next cold-formed part, developed and manufactured sustainably
Sustainability is a top priority at Arnold Umformtechnik. As a result, the fastener manufacturer has launched the ACO2 Save initiative. The aim is to actively support customers in reducing greenhouse gases. The company is focusing not only on more climate-friendly product manufacturing, but also on a more sustainable development process.
There are many ways to reduce CO2 emissions. One of these is the use of innovative connection and cold-forming techniques, for example, in components for the automotive industry.
Arnold Umformtechnik has re-engineered an aluminum turned part for a customer component—in terms of both cost and CO2 emissions. The result is the Conform® Next formed part, which offers a host of advantages. The fewer materials required for cold-forming processes cut costs and raw materials as the working weight of the forming blank and the waste are reduced. Compared to conventional machining, the new technology can reduce CO2 emissions by 45 percent.
Risk and opportunities report
---
As a globally active company, the Würth Group is constantly exposed to risks, but also makes systematic use of opportunities that present themselves. Opportunities and risks can arise both as a result of our own actions or failure to act and as a result of external factors. The risk and opportunities policy of the Würth Group is aimed at meeting the company's medium-term financial objectives and at ensuring the sustainable, long-term growth of the Group. To ensure this, the Würth Group has a system that identifies entrepreneurial opportunities and risks, records and assesses them using a standardized system, weighs them against each other, and communicates them. Our conscious and systematic approach to addressing opportunities and risks is inextricably linked to our entrepreneurial activities.
How the risk management system works
The Würth Group has a three-tier risk management system (RMS), comprising the cyclical monitoring system of the Auditing Department, the Group Controlling Department, and the early warning system. The Central Management Board of the Würth Group holds overall responsibility for the Group-wide risk management process and defines the principles of our risk policy and risk strategy. The management of each company within the Group is responsible for installing a functioning and efficient RMS for themselves. They are supported by the risk manager, who reports directly to the Central Management Board of the Würth Group and coordinates risk management at the Group level. The risk manager remains in close contact with the risk controller of the Advisory Board, who reports directly to the Chairwoman of the Advisory Board.
How the internal control system for financial reporting works
The aim of the internal control system for financial reporting is to ensure that all business transactions are completely recorded and correctly evaluated in line with the financial reporting requirements.
The Würth Information System is an integral component of the internal control and risk management system of the Würth Group. With the help of this reporting system, all key performance indicators required to steer the Würth Group are presented in a timely manner and are available for further evaluation by the Central Management Board and Executive Board based on standardized monthly reporting.

System-based control mechanisms such as validation and cross-checks optimize the quality of the information as a basis for decision-making. The standardized recording of the financial statements of all Group entities, combined with monthly reporting, is not only efficient, it also avoids carry-over errors, safeguards the uniform provision of information, and includes numerous plausibility checks, without which the information cannot be forwarded. Standardized external and internal reporting also helps to ensure that financial reporting changes are implemented in a uniform manner across the Group. Changes to the data recorded are documented using check digits and authorized by a corresponding system of IT access rights. Standard software is used for consolidation. Changes in the system settings are logged centrally. The monthly and annual financial statements of Group companies are subject to regular automated assessment mechanisms, as are the consolidated financial statements. Moreover, Würth's Policy and Procedure Manual (PAP) contains internal procedural instructions. Internal publications and training include detailed rules on financial reporting, compliance with which is regularly reviewed by the Auditing Department. External specialists are consulted to clarify the implications of legal and tax issues on accounting. External actuaries calculate pension obligations and similar obligations. Furthermore, regular training courses for those in charge of finance departments, which are also offered online, ensure that all employees involved in the financial reporting process are up to date on the latest information and knowledge of relevance to them.
The opportunity and risk management process is updated within the Würth Group on an ongoing basis and adapted to changes in the Group or in its economic and legal environment. At the request of the Advisory Board's Audit Committee, an analysis of the risk management system was carried out by an auditing firm at the beginning of the 2021 fiscal year. The focus was on determining the status quo, analyzing the degree of maturity, and performing a comparison with third-party companies. The resulting recommendations were explored in close consultation between the Central Management Board and the Audit Committee, with some of them being implemented immediately or scheduled for implementation in the future, also from an economic and efficiency perspective. Otherwise, the results of the analysis generally confirmed the previous focus of our risk management activities. The IT-based risk reporting system was rolled out at further Group companies in the 2022 fiscal year. The Executive Board and the heads of the administrative offices and functions were actively involved in the risk management process.
Risks
The Central Management Board identifies, analyzes, and assesses the Group's risks at a dedicated annual workshop. This workshop determines focus risks that could pose a threat to the net assets, financial position, and results of operations of individual entities or the Würth Group as a whole in the short, medium, or long term. Furthermore, in some cases with the support of the risk manager, all major Group entities carried out a risk inventory and recorded and assessed focus risks and other risks in the reporting system. The processes already in place were enhanced in 2022, undergoing improvements and adjustments in line with changing internal and external requirements.
Major risks that can be insured on an economically reasonable scale are covered by Group insurance programs for all Group entities whenever possible. In the area of credit insurance, further local insurance policies taken out by individual Würth companies were incorporated into existing master agreements with various credit insurers. This allowed us to expand and standardize our insurance coverage and achieve economies of scale. The credit insurance master policies were extended ahead of schedule until 1 January 2025, and the conditions were therefore secured for the years to come. In addition, receivables from customers are monitored by an extensive receivables management system, also at the Group level. Individual financial service providers are associated with a heightened risk of default due to the nature of the business model. We counter these risks through a strict credit verification procedure and appropriate insurance for our investments. Collection days increased slightly in 2022 compared to the previous year, but are still at a low level. This highlights that our risk in this area is currently relatively low and that the existing processes and systems are effective. We believe that other risks in Germany lie in the predicted increase in insolvencies and the applicable insolvency challenge rights, which grant insolvency administrators extensive opportunities for reimbursement if we have supported our customers with generous payment terms in the past. This risk had initially been reduced by the temporary suspension of the obligation to file for insolvency introduced in response to the COVID-19 pandemic. Looking ahead to 2023, however, we expect to see a renewed increase in corporate insolvencies and, consequently, also in the number of insolvency challenges. We have an insurance policy in place to cover such reimbursement claims so as to protect all German companies against unforeseeable risks in this area. The Würth Group's insurance policies are managed centrally in the main lines of insurance.
The Central Management Board has identified the following areas that could have a negative impact on the net assets, financial position, and results of operations of the company, sorted by descending order of relevance:
Economic environment
Through our global purchasing and sales activities, we have a high natural diversification of risk and, as a result, are less sensitive to negative economic developments in individual countries, even though more than 80 percent of our sales are generated in Europe. In addition, the diversification in our business units makes us independent of specific industries and markets, which proved an effective strategy in particular during the various phases of the COVID-19 pandemic. Due to the large proportion of sales generated in Europe, we are heavily affected by economic fluctuations in the eurozone. The Würth Group sources around 25 percent of its goods from the Far East. The supply chain problems coupled with a drastic increase in container freight rates that persisted until the fall of 2022 have had a significant impact on the business development of the Würth Group. Inventories were built up throughout the year to ensure our delivery capability.
In addition to the risks associated with the ongoing COVID-19 pandemic, we believe that risks lie in political developments in Eastern European markets and in Türkiye, as well as in the trade barriers between China, the US, and Europe. We believe that—despite all of the associated economic and social challenges—immigration to Europe still presents opportunities for the labor market and on the demand side for our customers and, as a result, for the Würth Group. We are observing the rise of right-wing populism with just as much concern as the development of risks on the procurement markets. We do not, however, currently see this as a direct threat to our business targets for 2023.
Most of the financial risks of the Würth Group are measured, monitored, and controlled centrally by Würth Finance International B.V. With liquid assets of EUR 1,215 million and a committed, unused credit line of EUR 500 million running until September 2027, the Würth Group has sufficient liquidity reserves to meet its payment obligations at all times. Thanks to its "A" rating from Standard & Poor's, the Würth Group has very good access to the public and private capital markets to procure further financial resources. Any risks arising from derivative financial instruments are accounted for. At the time this management report was prepared, there was no indication of any specific counterparty risks, which are automatically monitored on a daily basis. A Credit Support Annex (CSA) is in place with the main counterparties to derivatives, thus further reducing counterparty risk. Cluster risks are avoided by means of internal deposit limits for individual banks. For a description of derivatives and their risks, please refer to the notes on the consolidated financial statements under I. Other notes, [4] "Financial instruments".
Political environment
The risk of trouble spots giving rise to armed conflicts increased significantly in 2022. The relationship between China and the United States has once again deteriorated with the passage of the US defense policy bill over the Christmas period, which provides for military aid to Taiwan.
In very real terms, the buildup of Russian troops on the Ukrainian border, followed by the Russian military's attack on 24 February 2022, heralded definitive fundamental changes in the global geopolitical landscape. The war in the former Soviet republic became the dominant topic throughout Europe. It has claimed thousands of lives, driven millions to flee, and changed the international security order.
The events of the past year made economic dependencies in Germany, but also throughout Europe, tangible for everyone. The war in Ukraine triggered a severe energy crisis that dealt a blow to the economic strength of European businesses and industries, increasing the cost of living for citizens in the EU and driving up inflation.
Overall, the complexity and interconnectedness of energy policy, the economy, climate protection, and geopolitical issues have once again become apparent over the past few months. Although we cannot exert any direct influence over the development of the political situation, we have tried to mitigate the impact on companies in the Würth Group and their employees. These endeavors are based on the solid financial resources of the Würth Group overall. To partially offset the impact of increased inflation in large parts of the world, we paid a one-off compensatory bonus totaling almost EUR 50 million to employees worldwide. As far as energy supplies are concerned, we are seeking to switch from gas and oil to renewable energy sources wherever possible.
IT structures
As a company with a highly decentralized structure, the Würth Group had previously used various different IT systems, software components, platforms, and process control systems. This structure, which allows for a high degree of flexibility at the local level, increasingly emerged as a disadvantage in light of changing business models, digitalization, disruption, and the ever growing requirements related to cybersecurity. In line with our corporate philosophy, which allows for a significantly higher degree of centralization in IT, the Würth Group's IT organization, represented by the IT companies, has established a global ecosystem featuring platform-based IT solutions to suit the various business models within the Würth Group.
IT standardization
The central management of the IT companies with what is now a standardized product portfolio in the form of the IT ecosystem allows us to reflect the international multiplication strategy in our IT systems, too. Further standardization is achieved in line with a roll-out plan that sets out the launch dates at the individual companies, with numerous roll-out teams working on the introduction of the components in question in parallel to ensure a broad multiplication platform for the individual applications, processes, and functions.
The roll-outs will make existing processes more uniform, more efficient, more transparent, and faster. The increasing demand from our customers for individual ordering and delivery systems can now be met by the individual companies, and the new IT solutions are being made available to other companies. Efficiency gains can still be achieved as the standardization of the IT structures through central development will result in economies of scale. Harmonization of the system environment and support by specialists provide the IT ecosystem with significantly better protection against attacks.
The Würth Group's IT structure has proven its effectiveness in line with high standards. The uniform system platforms will allow further developments to be made available to all companies working on the platform in question within a very short period of time.
IT security
Cyber attacks remain a huge risk for every company worldwide. The Würth Group also identified attempted attacks in 2022, but these did not result in any significant damage. Risks arising from global integration are minimized by applying high security standards and systematically isolating the individual strategic business units to make sure that the company has the best level of protection possible. The information security organization was also significantly expanded. The topic of IT security is a top priority within the Würth Group, right up to the top management level, and lessons learned from the incidents are incorporated into security policies on an ongoing basis. IT system standards are reviewed by means of IT checks at the Group entities in accordance with a plan coordinated with the Group Auditing Department. This allows us to analyze and reduce the potential threat that cyber risks pose on a regular basis and directly on site. We counteract existing risks by taking organizational and technical measures and also transfer insurable risks to external risk carriers, taking economic aspects into account. All measures relating to data security and IT risks are supported and implemented by our IT security officers in the national companies. They work in line with an IT Compliance Code of Conduct. The IT Compliance Officer of the Würth Group, together with his team and the IT security officers, ensures that the IT Compliance Code of Conduct is further developed and applied. The network of IT security officers in the companies is used to take measures to ward off security risks quickly at the level of the Group companies and implement those measures with an aim to the continuously improve IT security. In companies where the IT systems have already been centralized, it is also possible to implement far-reaching and multi-level security procedures. At a physical level, these relate to our own data centers, and at the logistical level, they relate to various system and program components.
Raising employee awareness for information security risks is a top priority. Various media such as e-learning sessions, poster campaigns, information letters, and specialist presentations are used to show employees the behaviors and habits that reduce IT security risks. Targeted simulated attacks, such as phishing attacks, on individual companies and on particularly vulnerable functions are used to test the success of the measures and adjust them if necessary.
Human resources
Staff turnover, particularly among our sales force employees, remains a key focus. This is documented and analyzed across all hierarchy levels for every entity within the Würth Group.
Regular employee surveys conducted by independent institutions and the monthly monitoring of staff turnover are key tools that allow us to identify unfavorable developments, analyze their impact on recruitment processes, customer loyalty, and training programs, and combat these effects using targeted measures. The overall staff turnover rate of the Würth Group remains at a very encouraging low level below the 15-percent mark. We aim to ensure that this remains the case in the future.
Demographic trends and the shortage of skilled workers mean that competition for employees is now also increasing in our inside departments, and vacancies are becoming increasingly harder to fill. In this respect, keeping existing employees within the Group is paramount. Offering attractive working conditions plays a decisive role in this endeavor and strengthens the Würth employer brand. The "New Work" approach illustrates ways of structuring work in the Würth Group for the future and how time at home and in the office can be combined effectively.
As a further approach to countering the shortage of specialists in our inside departments and in the sales force, the activities of Akademie Würth in Germany and Würth Business Academy in Switzerland were further expanded for both groups. The range of courses offered by Akademie Würth is designed to enable employees and managers to meet current and future requirements. Up-and-coming international management candidates partake in development courses to prepare them for various levels of management within the Würth Group via the Würth Potential, High Potential, and Top Potential training programs organized under the umbrella of Würth Business Academy. These programs give employees targeted training that is tailored to suit their own individual ambitions and skills in order to prepare them for further managerial duties within the Group.
In order to ensure that the process involved in providing all central and key areas of the Würth Group with up-and-coming management talent for both leadership and specialist career paths is structured and targeted, two processes are in place at larger companies: The Management Assessment Process (MAP) is the qualitative tool used for the objective and standardized evaluation of executives. The talent management system is used as a quantitative instrument to identify whether there is a sufficient number of qualified successors for functions that are relevant to the success of the Würth Group companies and, if not, by when these successors need to be available. Up-and-coming management talent is included in this system as well in order to ensure a structured and transparent development process. This approach ensures that key existing and also new functions in the Group can be filled in the short term through contingency plans and in the medium term for planned succession and that up-and-coming talent can be developed in the long term. There is also a succession and contingency plan in place for managing directors, which ensures that succession arrangements that can be planned are made in good time.
In order to meet the increased requirements in the area of human resources, the Group HR function is tasked with bundling and organizing, at Group level, the strategically relevant HR topics that are important for the entire Würth Group. Within this context, Würth Business Academy focuses exclusively on the core topic of management development. Akademie Würth ensures that the necessary specialist and management knowledge is available throughout the Würth Group. This also includes training measures in the areas of product management, procurement, logistics, and finance. The Learning Campus provides a platform for digital learning on which all employees can complete e-learning courses. Together with the specialist departments, targeted activities are under way to digitize knowledge about global standards so as to make it available across the globe.
A third pillar is currently being established within the Group HR function: HR Strategy and Processes. This includes the Group Global Mobility and Group HR IT units. The Global Mobility unit is responsible, among other things, for drafting and maintaining globally applicable policies and directives in order to provide professional support to employees and managers on international assignments and to help fill key positions with optimal candidates. HR IT supports and coordinates the establishment of a uniform IT infrastructure for the HR function to provide the Würth Group companies with the best possible support for their HR processes and make state-of-the-art tools available to applicants, employees, and managers alike.
Compliance risks
National and international transactions involving goods, services, payments, capital, technology, software, and other types of intellectual property are subject to numerous regulations and limitations that also have to be observed by the companies in the Würth Group. There is no question that we aim to comply with all statutory and official regulations for our business, both nationally and internationally. This applies to dealings with customers and suppliers, employees, competitors, and other business partners and authorities. Due to increasing legal complexity, we have in-house experts and consult renowned external consultants on a case-by-case basis. Particularly in China and emerging markets such as Brazil, complex, inconsistent, and constantly changing legal principles pose a challenge and also create risks that are difficult to assess and will persist in the long term due to the possibility of retroactive effects.
In November 2022, searches were carried out at various electrical wholesalers—including three subsidiaries of the Würth Group—as part of investigations by the German Federal Cartel Office. The searches were motivated by initial suspicions of anti-competitive agreements at the wholesale level in Germany. The Würth Group immediately launched an internal investigation after the facts came to light. As the investigations are at a very early stage, no information can be provided on their outcome at present. All in all, and based on the information currently available, the Würth Group can conclude that, while the imposition of a fine by the German Federal Cartel Office in the course of the proceedings is possible in principle, it is an unlikely outcome for the subsidiaries of the Würth Group concerned.
Value-oriented corporate culture
Mutual trust, predictability, honesty, and straightforwardness in both internal and external interaction are fundamental principles that are deeply ingrained in Würth's corporate culture. Our commitment to these values can be found as far back as the corporate philosophy penned by Prof. Dr. h. c. mult. Reinhold Würth back in the 1970s. This is not just about complying with all of the relevant legislation and internal company regulations, but also about employees adopting the right intrinsic attitude, a key component in the sustainable corporate success of the Würth Group. Extensive internal guidelines known as the Policy and Procedure Manual (PAP) operationalize these fundamental principles in the form of descriptions of the structure and process organization, in addition to setting out specific rules and codes of conduct.
Compliance organization
In order to meet the increasingly stringent compliance requirements, the Central Management Board of the Würth Group has established a Group-wide compliance management system with the approval of the Advisory Board and the Supervisory Board of the Würth Group. In addition to the role of Chief Compliance Officer and Group Compliance Officer, compliance officers have been appointed at the level of the business units and also within the largest individual companies in the Würth Group. The responsibilities and structures for product, tax, and IT compliance that are already in place across the Group remained unchanged in the 2022 fiscal year, and the individuals responsible report to the Chief Compliance Officer of the Würth Group. The Compliance Board provides advice on compliance incidents as and when required and makes recommendations regarding any measures that need to be taken. The Compliance Board is also responsible for the further development of the compliance organization and reports to the Central Management Board and the Advisory Board of the Würth Group in all compliance matters. Particular emphasis was placed on further training for compliance officers at the company level and on meeting face-to-face after the restrictions imposed in response to the pandemic were lifted.
Compliance regulations
The fundamental features of the corporate philosophy are summarized in a Code of Compliance and supplemented with regard to compliance with international standards. In order to anchor the compliance organization within the Group in the long term, Group-wide training sessions are conducted on compliance issues. Training sessions initially focus on "Dealing with gifts and invitations," "Antitrust law and price fixing," "Company secrets," "Data protection," "European General Data Protection Regulation," and "Export control." In the 2022 fiscal year, an anti-money laundering policy and a policy on protection against discrimination and harassment were also added to the compliance framework.
Group-wide reporting system
The Group-wide reporting system means that not only employees but also customers, suppliers, and other individuals are able to report any suspected compliance breaches directly to the Würth Group's Compliance Office. The use of a technical system made available by an external service provider means that reports can be submitted completely anonymously. This system means that we have already laid the foundation that will allow us to meet the requirements of the German Whistleblower Protection Act (Hinweisgeberschutzgesetz) planned for 2023.
Prerequisite for sustainable corporate success
The compliance organization is supported by the firm conviction of the Central Management Board, the Würth family, the Supervisory Board of the Würth Group, and the Advisory Board that a living and breathing compliance culture will play a key role in ensuring the further sustainable success of the Würth Group. At the same time, the management teams of the Group companies can proactively live up to their responsibilities with regard to the mounting national and international demands that compliance organizations have to meet.
Continuous further development of the compliance management system
In the 2020 fiscal year, in consultation with the Advisory Board of the Würth Group, we conducted a status quo assessment of our compliance management system together with an external consultant. As well as reviewing its fundamental orientation, we also wanted to receive impetus for further development and improvement. The results of this assessment have confirmed that we are pursuing the right focus with our compliance management system and form part of the continuous improvement process at the same time. In the past fiscal year, the Würth Group's trade compliance structure, among other things, was adjusted based on the findings of this status quo assessment.
Business model
The business model of direct selling still offers considerable opportunities for the Würth Group in that it places us very close to the market and ensures customer loyalty. Nevertheless, customer ordering behavior has changed considerably in recent years. Digitalization offers a whole host of opportunities for working directly with suppliers. The relative ease with which businesses can establish Internet-based business models is resulting in growing competitive pressure. Our business model has to adapt to reflect this development. We want direct selling to continue to play a key role but also want issues such as logistics, services, and a broad product range to open up market opportunities. The sales representatives of today are no longer just salespeople, but rather manage the various customer contact points: the sales force, the pick-up shops, and the Internet. We refer to this as a multi-channel sales model in which e-business serves as a practical complement to the traditional sales methods in a manner that is tailored to suit our customers' procurement organization. The COVID-19 crisis and the resulting change in our customers' purchasing behavior led to an above-average increase in e-business sales, as our systemic importance gave us the green light to deliver and our delivery capacity was virtually unrestricted. This development shows that we are on the right track with the services that we are offering with our customers' needs in mind and that our strategy of multi-channel sales is bearing fruit.
Opportunities
The opportunities set out below could have a positive impact on our net assets, financial position, and results of operations. Like the risks, they are listed in decreasing order of relevance.
Decentralized structure
Würth's decentralized structure is a great advantage for the Group, especially in light of the fact that the individual countries in which we operate display such variation in their economic development. We believe that this structure presents an opportunity for further sustainable growth. It allows for a quick local response to circumstances and changes in any given market environment, meaning that we can implement efficient measures. We will continue to push the development of the Würth Group while maintaining our decentralized structure. The term "decentralized" within this context not only refers to regional aspects, but also covers our large array of different business models. However, the fact that we pursue the principle of decentralization does not mean that we cannot standardize processes further where it makes sense to do so in order to make more efficient use of our resources.
Market penetration
Our share of the market is estimated at just five percent due to a low share of the market in most countries, with a few exceptions. What would appear to be a disadvantage actually signals major growth potential that we can tap into by further expanding our customer base and intensifying our customer relationships, for example, by continually enhancing intelligent distribution systems that offer real benefits to our customers.
Customer relations
Our more than four million customers form the basis for our business success. As a result, expanding and maintaining our customer relations are key components of our day-to-day work. We will continue to focus on comprehensive customer management at all Group companies. Around 300,000 customer contacts a day and our more than 43,000 sales employees, many of whom have long-standing customer relationships, help us to exploit the existing potential to the greatest extent possible. Grouping our customers based on their individual needs is a key steering mechanism for strategic management. Being close to our customers is our declared objective. The correlation between additional customers and sales growth, together with the service level, are important indicators of business success for us. Customer insolvencies are a manageable risk for the Würth Group. Due to our very extensive core range of over one million products, the comparatively low average order values, and our broad customer base, we are well positioned to keep these risks to a minimum.
Quality
Würth always sees it as its responsibility to meet the very highest quality standards with its products and services. Based on this firmly established principle, we strive to be a trustworthy and reliable partner to our customers in the markets we serve. The high diversity of business models within the Würth Group leads to a large number of very different requirements on the part of our customers and stakeholders, which we meet by taking the comprehensive approach of integrated management systems. By creating synergies and pooling resources in the area of established management systems, we adapt the process landscape in the individual companies to suit the relevant challenges.
The Group Quality function is doing its bit to minimize the risks to our companies through the preventive measures that have been taken, our training programs, and the performance of its role in the after-sales process. In our standard range in particular, we adopt a proactive approach in our supply chain through the risk-based use of a network of highly qualified Supplier Quality Engineers (SQE) operating worldwide. A number of ongoing restrictions due to the pandemic were mitigated in 2022 by the increased use of remote technologies. World-renowned local testing laboratories are also used for testing approvals, norms, and standards. These activities serve to ensure high-quality products, even in times when procurement conditions are more difficult.
Sustainability
As a family business, one of our top priorities is ensuring a future that is fit for future generations and, at the same time, securing growth opportunities for the companies in the Würth Group, while also living up to our social responsibility. As a result, sustainability is an integral part of our principles and increasingly also of our corporate culture. We have made the decision to gradually transition the Würth Group to a circular economy—an approach we refer to as our "Circular Way". Our aim is for this circular economy to secure the basis for further, sustainable growth. We have defined three areas of transformation to achieve this: climate, material cycles, and social standards. As we progress toward a circular economy, it is important to develop all fields equally. Integrated management systems provide the basis for this. We will be providing transparent information on our progress annually as part of our Sustainability Report.
The Würth Group's sustainability management is controlled centrally. The associated reporting provides us and our stakeholders with the necessary information and data as a guide and basis for decision-making. Risk assessment is also extremely relevant in sustainability management in order to control or preventively minimize social and ecological risks or, in the best case scenario, to avert them entirely. This is why we will be expanding our risk portfolio and, in addition to the existing risk assessment, will also be covering social and ecological risk developments in the future.
Diversity
Different opinions and outlooks boost creativity and innovation, while paving the way for new solutions. In order to make the best possible use of the considerable potential that diversity offers within the Würth Group's workforce, the aim is not only to build diverse teams but also to involve and listen to all employees. With this in mind, the Würth Group laid out its position on diversity and inclusion in 2022:
"The future needs good decisions. Good decisions arise from the diversity of opinions and perspectives. Diversity is our future. Diversity stands for creating space, for variety, for opportunities—and that is precisely what the Würth Group stands for. That is why we make our teams diverse at all organizational levels and are enthusiastic about the opportunities this creates. That is why we actively focus on incorporating the perspectives of people with different world views, experiences, and socio-economic backgrounds.
That is why we provide a framework and work environment that is free of prejudice and intolerance and enables everyone to make a valuable contribution. That is why we do not tolerate any discrimination based on gender, gender identity, sexual orientation, physical or mental impairments, social or ethnic origin, age, nationality, language, skin color, or religion. That is why, in the end, it is the best idea that counts for us, and not where the idea comes from. That is why we are committed to inclusion and diversity for the future success of the Würth Group."
As an initial step on the way to greater diversity within the company, the focus is on a higher proportion of women at all hierarchical levels, especially in management positions.
Overall assessment
The opportunities available will generally enable us to achieve further profitable growth in 2023 and beyond. The risks for the Würth Group are limited by the established and functioning risk management system, even in an economic and political environment that remains challenging, and are being monitored very closely. Existing risks are consistently monitored and assigned measures to ensure that they do not jeopardize the Würth Group's continued prosperity.
We are very concerned as we follow the ongoing developments in the Ukraine conflict and the associated impact on the population. Further direct and indirect economic implications and risks for the Würth Group are difficult to forecast at the present time.
---
The number of employees in the Würth Group rose by 3.0 percent to 85,637 as of 31 December 2022 (2021: 83,183). In Germany, the Würth Group had 26,113 employees (2021: 25,438).

HR strategy
The shortage of specialists and managers is having an impact in many countries and is increasingly becoming a limiting factor for growth. It is therefore important to retain employees at the company and to offer a positive working environment with interesting development opportunities. The Würth Group, with its diverse business models and international focus, has a great many options open to it in this regard.
In order to meet the increased requirements within HR, the Group HR function has been tasked with overseeing strategically relevant HR issues at the Group level since January 2021. Group HR is divided into three pillars:
Würth Business Academy (WBA) focuses on management development and talent management. Akademie Würth offers training and consultancy services worldwide for the companies in the Würth Group and their customers. A third area, HR Strategy and Processes, ensures, for example, that a state-of-the-art IT infrastructure is available for HR, while an attractive Global Mobility Policy guarantees that key functions can be filled internationally.
WBA provides holistic management training and the systematic development of up-and-coming talent. The aim is for management positions to be filled primarily from the company's own ranks. Accordingly, WBA offers suitable development programs for different development stages. It also supports management teams worldwide in succession planning as part of a structured process and makes its information available to the Central Management Board and the executive bodies of the Würth Group as part of the risk assessment process.
Digitalization will lead to major changes and associated challenges with regard to human resources. The newly established HR Strategy and Processes function works together with the companies in the Würth Group and the IT department to develop an appropriate strategy and provide the companies with suitable software solutions. In the area of digital learning, the Learning Campus is a platform that is open to all employees of the Würth Group.
Employee training
The skills, competences, and qualifications of all employees, together with their motivation and enthusiasm, form the basis for a successful future. That is why personal development and continuing professional development are of particular relevance in the company. The programs available aim to offer each and every employee training that suits their individual skills and professional objectives.
As a family business, Würth focuses on long-term corporate development and has been committed to providing people with extensive vocational training for more than 60 years now. At the end of 2022, the Würth Group in Germany had 1,150 trainees for around 50 different occupations. Young professionals can also study for bachelor's degrees at the Baden-Württemberg Cooperative State University.
Akademie Würth offers a holistic further training concept for employees of the Würth Group, as well as for customers and interested parties outside the Würth Group. Akademie Würth offers a practice-oriented range of further training courses specifically for craft businesses in the form of technically oriented training courses. This allows Würth to support its customers as a service provider, driver of innovation, and mentor as well.
Degree programs for working professionals at Akademie Würth Business School, which are open both to employees of the Group and to interested individuals from outside the Group, allow people to study for academic degrees. Various bachelor's degree courses with cooperating distance learning universities allow employees to work toward qualifications part-time. The current focus on sustainability management, both for business administrators and engineers, is particularly worthy of mention. In collaboration with the University of Louisville in Kentucky (USA), Würth also offers an internationally recognized master's degree in Global Business. Students can then work toward a Master of Science (M.Sc.) in Family Business. The courses are offered in cooperation with Heilbronn University of Applied Sciences. The master's program in Digital Management & Transformation confers a Master of Science in four semesters, also in cooperation with SRH Distance Learning University. New options include master's degree programs in sustainability management in cooperation with the University of Applied Management in Erding. There is also a Doctor of Business Administration (DBA) as a three-year program in conjunction with Northumbria University, Newcastle.
Health management
Since 1994, the in-house health management program of Adolf Würth GmbH & Co. KG, "Fit mit Würth", has been promoting the health and productivity of its employees and offering a wide range of health promotion measures. They cover exercise, nutrition, regeneration, safety, social affairs, and check-ups. The courses are open to employees, relatives, and senior citizens within the Würth Group.
Employee survey
Employee satisfaction has always been a top priority for the Würth Group. Regular surveys have been carried out since 2005 in order to obtain regular information on how satisfied employees are with the Würth Group company for which they work and how these satisfaction levels are developing. The focus is on boosting satisfaction with the aim of improving company performance. The surveys are carried out together with the independent Mannheim-based W.O. Institut (Institute for Economic and Organizational Psychology).
Thanks to our employees
The Central Management Board of the Würth Group would like to thank all employees, as well as the employee representatives, for their considerable commitment and flexibility in exploring new avenues in a constantly changing environment in order to promote the Würth Group's healthy growth in the long term.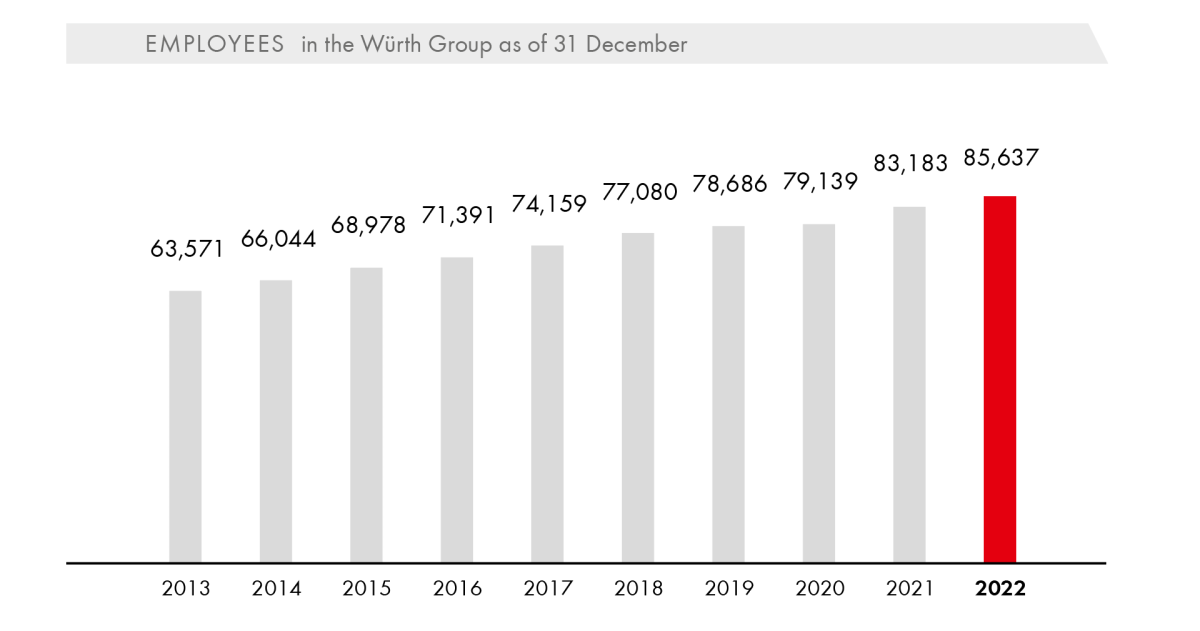 ---
Macroeconomic environment
Developments in the 2023 fiscal year remain as unpredictable as they have been over the past two years. After a mixed and challenging 2022 in economic terms, the current crises mean that it is still difficult to arrive at any reliable forecasts. The global economic and political situation remains fragile. It is uncertain how the Ukraine war will develop and whether the relationship between the US and China will deteriorate further. A global recession could weaken the economy, as could a new wave of COVID-19 infections.
Nevertheless, leading economic institutes offer a glimmer of encouragement and hope in their latest forecasts. Slight growth increases are becoming more likely for the US and the eurozone, although they will still lag well behind the 2022 levels. For the US, the International Monetary Fund (IMF) predicts growth of 1.4 percent in 2023 (2022: +2.1 percent). While the Leibniz Centre for European Economic Research (ZEW) forecasted growth of only 0.2 percent in the eurozone at the end of 2022 (2022: +3.5 percent), the IMF made a somewhat more confident prediction at the beginning of 2023, raising its forecast from 0.5 percent to 0.7 percent. The European Commission goes as far as to expect an increase of 0.9 percent. The IMF corrected its predicted global GDP growth of 2.7 percent to 2.9 percent at the end of January 2023 (2022: +3.4 percent).
Forecasts suggest that the economy in Germany is also likely to develop better than assumed. While inflation will persist this year, with the German government currently estimating it to come in at 6.0 percent (2022: 6.9 percent), there does not appear to be any threat of a severe recession—not least because fears of a gas shortage resulting from a lack of Russian supplies have been allayed.
At the end of January 2023, for example, the European Commission corrected its gloomy forecast and currently estimates slight growth of 0.2 percent for the German economy (2022: +1.8 percent).
High inflation, supply problems, and high procurement costs for energy and raw materials make it difficult to provide any reliable forecast for the trades and the construction industry. The overall situation could mean that the construction sector will no longer serve as a reliable support and stabilizer for the economy. The 6.0 percent decline in sales forecast for 2023 by the German Construction Industry Federation at the end of February also leaves little room for hope (2022: –5.1 percent).
The automotive sector will also continue to feel the effects of the ongoing difficulties in 2023. In addition to material shortages, high inflation has made cars more expensive to produce. At the same time, consumers are opting to shy away from new purchases in economically volatile times. Nevertheless, the industry association VDA forecasts a 2.0 percent increase in new registrations for the German market (2022: +1.0 percent).
All in all, it is currently difficult to arrive at any reliable forecasts in the mixed overall political and economic situation. What is certain is that the economy as a whole will not bounce back easily or quickly from the various crises seen in recent years.
Nevertheless, the market stability that has emerged of late gives us reason to be hopeful: Inflation rates and energy prices are falling, the labor market remains stable, and the individual economies are forecast to grow at least a little over the course of the year, albeit with major differences from region to region.
Development of the Würth Group
Sales growth of the Würth Group based on a broad foundation
Share of e-business sales rises to over 20 percent
Adolf Würth GmbH & Co. KG invests EUR 97 million in logistics
The Würth Group once again demonstrated its competitive strength and stability by setting new records for sales and operating result in the 2022 fiscal year. The Group's broad positioning in 80 countries and in a wide range of industries contributed to the company's success, as did its multi-channel strategy.
In addition to direct sales, the more than 2,500 pick-up shops worldwide, and the inside sales staff, e-business is one of the Würth Group's strategic growth areas. It was able to continue the positive trend established in recent years and recorded sales growth of 21.2 percent in the 2022 fiscal year. For the very first time, its slice of the total sales of the Würth Group exceeded 20 percent.
More and more customers digitalizing their procurement
With regard to online shops, e-procurement, app, and systems, which are all part of e-business, the Würth Group relies on its own in-house digital solutions. This allows it to create a shared uniform technical foundation that enables not only innovative further developments, but also their rapid, cost-effective roll-out. These central solutions are now used at more than 60 companies within the Würth Group.
E-procurement and the Würth App are the growth drivers within the Würth Line. More and more customers are professionalizing and digitalizing their procurement, which is also reflected in the 26.9 percent sales growth in e-procurement compared to 2021. In many countries, specialists are helping defined key accounts to optimize and automate their purchasing processes. Regardless of customer size and procurement processes, the Würth App is a quick and easy way to meet product needs. More than 200,000 customers from 37 Würth companies worldwide are now using the Würth App, with sales up significantly by 52.4 percent year-on-year.
Within the Würth Line, regional competence centers are being set up in Southeast Asia, Latin America, and Africa in order to cultivate e-business activities in those markets and to support the local companies with individually customized expertise.
Finding the right Würth product thanks to artificial intelligence
Digitalization of processes and applications is indispensable for companies that want to maintain their competitive standing. For example, the Würth Group has been operating a Competence Center in Berlin-Adlershof since 2018: In addition to 20 data scientists from Adolf Würth GmbH & Co. KG's Big Data Research team, the subsidiaries Würth Elektronik, Würth IT, and Würth Cloud Services are working here on the digital transformation of the trades. One example of increasing digitalization in this area is the "Würth Match" app, which automatically recognizes images of products used in the trades. The project is based on the latest findings in the field of artificial intelligence. The app can recognize hand tools in photos and assign corresponding Würth products. This means that in the future, customers and employees will be able to find the right product for the relevant application more quickly. The app is currently being developed further to feature a screw finder that recognizes the type of screw from photos and identifies the corresponding Würth product.
Investment in automation and digitalization of logistics
Artificial intelligence and robots will continue to be used increasingly in logistics at Adolf Würth GmbH & Co. KG to increase the level of automation and digitalization. The robots support incoming goods, picking, and palletizing for outgoing goods. The aim of the expansion of Distribution Center West in Künzelsau-Gaisbach is to avoid split deliveries so that domestic and foreign customers, as well as Würth subsidiaries, receive all order items in one delivery in the future. The groundbreaking ceremony for the largest logistics investment in the history of the Würth Group, worth around EUR 97 million, was held on 29 June 2022. The new building will see Würth create over 200 new jobs for the region. It is scheduled to go live in December 2024.
Diversity and sustainability as focal issues
In addition to digitalization, the Würth Group is also focusing on the topic of diversity. The first step will involve increasing the proportion of women at all hierarchical levels, especially in management positions. With this goal in mind, Würth Business Academy has established various programs for up-and-coming female talent. The year 2022 marked the launch of the new CHAMP mentoring program. Female high-potentials learn from experienced managers, who help them with networking and career planning. The dialogue also allows the managers to gain new perspectives. The mentoring program lasts approximately 18 months and around 270 women worldwide are currently participating.
In addition, the Würth Group is working on its transformation to a circular business. The company provides information on its progress as part of its Sustainability Report.
EUR 500,000 in emergency aid for earthquake victims
The Würth Group has always been committed to social welfare. When several earthquakes, the most violent measuring 7.7 on the Richter scale, struck Türkiye and Syria on the night of 6 February 2023, it was a matter of course for the company to help as quickly as possible. On the initiative of the Würth family, the Group provided emergency aid of EUR 500,000 as a gesture of its solidarity. The amount went to the aid organization UNICEF, which is particularly committed to the welfare of children and young people and has an international network.
The Würth Group also supported its employees and their families in the affected regions with numerous emergency aid measures. According to the German Foreign Office, the earthquakes in the Turkish-Syrian border region rank among the worst natural disasters of the past hundred years. More than 50,000 people died and more than 1.5 million are without shelter.
Overall statement on the future development of the Würth Group
After 2020 and 2021 were dominated by the COVID-19 pandemic, there was real hope that the Würth Group would find a way back to normality in 2022. This hope was extinguished on 24 February 2022 when Russia attacked Ukraine.
Worldwide supply chain problems and a looming energy crisis were just two consequences of this war, with which the Würth Group also had to contend.
As the global economic and political situation remains volatile, it is difficult to predict the future development of the Würth Group. The situation in Ukraine is too uncertain. In addition, the simmering conflict between China, Taiwan, and the US is also expected to have a huge impact on global supply chains, with the first few effects already being felt. If this conflict were to escalate, this would pose an acute risk to the supply of products, components, and raw materials.
As a result, Central Purchasing is focusing on establishing new suppliers in other countries. The current challenges, such as increased prices, will remain an issue in 2023. For purchasing, this means renegotiating purchase prices. This will involve taking advantage of all opportunities for price reductions that arise and scrutinizing price increases in order to avoid them as far as possible. Central Purchasing forecasts a slight increase in prices for the product range as a whole in 2023.
By contrast, the forecast of the European Commission is a source of good news: It predicts that the economic situation in Germany, for example, will develop better than expected. It does not anticipate a recession and expects gross domestic product to increase by 0.2 percent, compared with its original forecast of –0.6 percent in November. The European Commission cites the fact that Germany has come through the energy crisis well so far as the reason behind this encouraging forecast. Inflation is also not expected to be as high this year, with an inflation rate of 6.3 percent, compared with the 7.5 percent assumed in November 2022.
Despite all of the crises facing us, we are taking the momentum and positive mood from 2022 along with us, maintaining our optimism and acting prudently. This leads us to be cautiously optimistic about 2023 and to expect sales growth in the mid-single digits and slight earnings growth—provided that the military conflict remains confined to the territory of Ukraine and does not escalate any further. Acquisitions will remain part of our growth strategy, and we will seize any opportunities that arise in line with our previous acquisition behavior.